A Car Text Check is a vehicle's data history report you get via an SMS in the UK. They were very popular in the bygone days since the best way of receiving some information on earlier mobiles was a short text message through your data carrier. Fast forward today with a number of Instant Messaging apps like Whatsapp as well as Adobe PDF reader (the global standard of viewing and sharing files), you might wonder if a vehicle text check still exists and do people really opt for it.  
The answer to the first question is Yes! But we cannot say the same for the second. Is it due to the trust factor that not many people run car text check? Let's find out:
How to check car history by text?
Before we talk about the trustworthiness of the text checks, let us explain how to check car history by text. The procedure is actually quite simple; you text the registration number of the vehicle to the data history provider, and they send you a report straight to your cellphone in seconds.
The amount of information you get depends on the plan you choose. For instance, a simple car text check at 78888.co.uk may cost you £3 at least, offering little details such as the number of previous owners, write off status, exported check, stolen status, and number plate changes.
Of course, these details are not enough to make an informed decision. What if the car has an unsettled loan or mileage anomaly. To get to know about outstanding finance and mileage, you might have to pay £5 and £3, respectively. In other words, a complete car text check may cost you around £17, which is almost double the car data check CarAnalytics provides.
How to HPI check a car by text?
To get a car HPI check text, you simply need to send your vehicle's registration to the number "78777." Once you do that, you receive an instant report containing the following information.
Finance
Stolen
Write Off
No. Of Owners
Import Check
Export Check
VIN Check
Security Watch
Mileage Check
Colour Changes
Reg Changes
Scrapped Check
For a complete HPI check text, you have to pay no less than £9 + network charges against your PAYG balance or bill. While a vehicle HPI check text looks very convenient, a car text check message has a limitation of characters, and you may not be able to translate different abbreviations used in the report.
Are there any drawbacks?
As stated earlier, a text message can only contain a certain number of characters, and in order to save space, the senders usually have to use abbreviations. The lingo may not be easy to understand for some.
Secondly, asking car data via text message may not be as convenient as it sounds. You may have to confirm a password or security code, and sometimes you have to re-send the text due to failed delivery. You may also get billed multiple times.
With Car Analytics, you do not have to worry about any such thing. You just need to type your vehicle's registration number in the search field, opt for Free, Basic, or Full check, pay us through PayPal or credit/debit card, and we send you our vehicle check report in PDF format instantaneously. No double billing or confirmation required with us! Furthermore, our car data report is very comprehensive, with zero jargon. Check how much information we provide in our report.
Comparing Vehicle Text Check with Online Car Data Check
Apart from some of the restrictions of the vehicle text check we mentioned above, you should understand that there are other things that make them less desirable.
There is no such thing as text reg check free. It means you cannot get a free vehicle history report by text. What you get by paying £3, you could get most of it free with our free vehicle history check, plus more. We are talking about MOT history, vehicle tax status, registration date, odometer reading, performance data, and so on. Try it now!
The cost of a full car text check could be a lot higher than the fee of a complete online history check. The reason is HPI finance check text, car valuation text check, plate change history, etc. usually come as Add-ons. It means you have to pay for each test report separately. Moreover, you have to pay SMS network charges on each request you forward to the service provider.
An HPI text is a lot hard to understand and is limited compared to the PDF car data report. Weigh against our report snippet below with the mobile text and decide for yourself.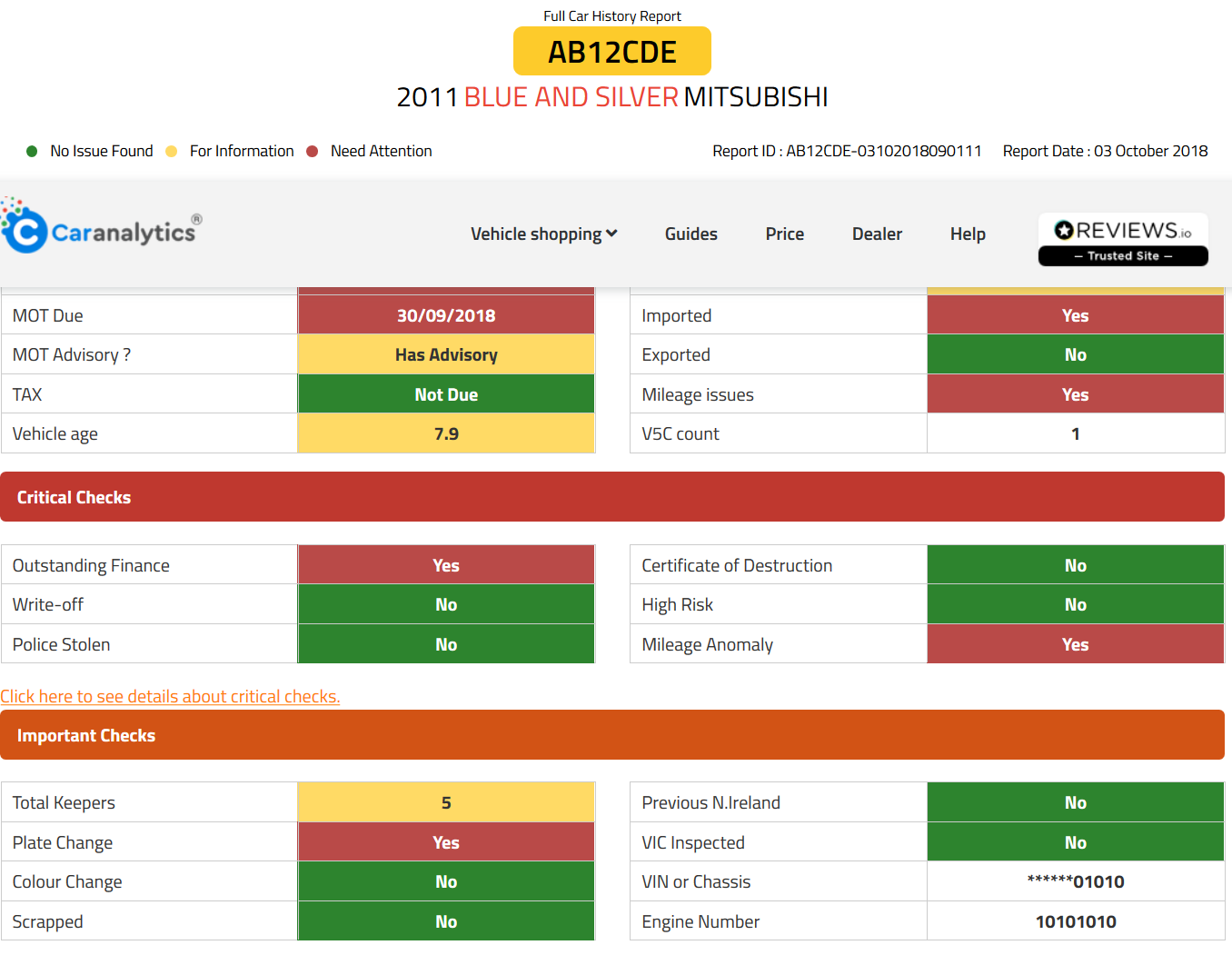 Our Report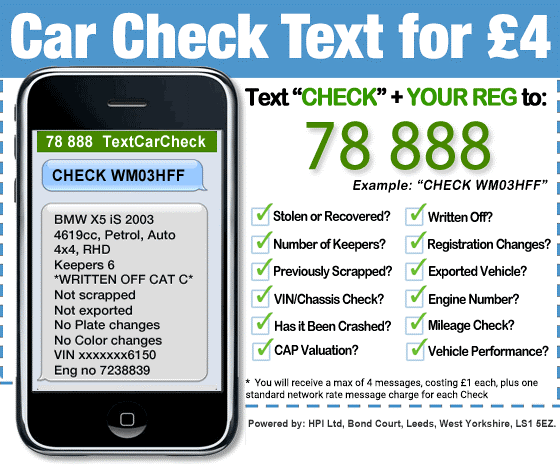 Mobile Text
Are Automobile Text Checks Trustworthy?
Yes, they are, and there are several providers such as HPI Ltd, Cartextcheck, Cardatachecks, 78888, etc., offering this service. Text your reg, and you get an instant report, similar to a report you receive from us. However, as discussed earlier, a text reg check has its own limitations and is more expensive to run. Moreover, you may have to pay for info, which you can get free with us. Do you think it is a wise choice to pay for something you can get free? And do you prefer a text message for a long report or a PDF file? The decision is yours!
Have a look on how our customers feel about us and make sure that you are following Car Analytics on social media, we have Facebook, Linked In, Youtube, Instagram, Twitter and Pinterest we will post all our latest deals and offers.