Unfortunately, the number of stolen vehicles in the UK rises every year. For 2020, the Driver and Vehicle Licensing Agency (DVLA) revealed a whopping figure of 74,769 stolen vehicles throughout the year. It's ideal to avoid the models that thieves steal the most in the UK or take good measures to protect them. Alternatively, if you already have a vehicle on the list of stolen cars UK, you might want to take extra precautions.
So, what are the 15 most commonly stolen cars in the UK? Continue reading to learn about the most stolen cars UK, how to check if you are purchasing a stolen car, and how to find a stolen car.
How to check if a quad is stolen UK
It is crucial to ensure that the quad, or any other vehicle, you are purchasing is not on the list of stolen cars UK. In the worst case, thieves steal vehicles when their owners are out of the city and sell them to another person before their return. The stealer could also change the quad bike's appearance and its identity by manipulating the registration number.
But in most cases, when you report a stolen quad, it gets added to the Police National Computer. To recognize a stolen quad, you would have to fetch details from the police computer or Motor Insurers Anti-Fraud and Theft Register (MIAFTR) database. It is why you would need a third-party service to make sure the vehicle you are purchasing is not among the stolen cars UK.
You can ensure your next vehicle is not one of the stolen cars in the UK by availing the CarAnalytics' stolen car check. The full vehicle check report (£9.95) briefs you everything from the model, make, colour, VIN, plate, outstanding finance to stolen, written-off, scrapped, clocked, etc. You can tally all the information from our report to interpret any discrepancy in the quad bike you will purchase. Learn more about stolen check here.
How do we perform a stolen vehicle check?
When you request a stolen car check from CarAnalytics, we go through the database maintained by the Police National Computer as well as MIAFTR. If it is, we further provide you with the date of theft and police contact information if available.
How to find stolen cars UK?
There are two primary means to retrieve a stolen vehicle. The first and immediate step you should take is to report the stolen car to the police and the insurance company.
Reporting to the police is simple; you should dial 101 and request to speak to your local police station. Ensure you provide the registration number, model, make, and colour of your vehicle. The police would give you a reference number after entering the query in the Police National Computer. They further inform the DVLA about the theft, and also when they recover the vehicle.
You can also find stolen cars UK through tracking companies that install GPS devices in your vehicle to track them. However, the new tech, the thieves use, such as signal jammers and relay attacks impede the tracking company's ability to find the vehicle, as they block the transmission of the signal through the tracker.
How often is a car stolen in the UK?
According to the DVLA, the number of stolen UK vehicles stood at 74,769 in 2020. Breaking down this figure to arrive at the number of cars stolen per day in the previous year, it is 205. As far as the frequency of a stolen vehicle is concerned, we have listed it below.
Considering the Office for National Statistics (ONS) data, three-fourth of these stolen vehicles never saw their original owners again.
What's the Easiest Car to Steal?
Statistics suggest a growing number of cars stolen each year. Going into detail, we would like to know the models that are the easiest to break through and stolen the most. Let's dive a little deeper into the stolen vehicle records and see the top 15 commonly stolen vehicles in 2020.
Ford Fiesta – 3,392 stolen
Land Rover Range Rover – 2,881 stolen
Volkswagen Golf – 1,975 stolen
Ford Focus – 1,587 stolen
BMW 3 Series – 1,435 stolen
Vauxhall Astra – 1,126 stolen
Land Rover Discovery – 900 stolen
Mercedes Benz E Class – 766 stolen
BMW 5 Series – 678 stolen
Nissan Qashqai – 655 stolen
Ford Kuga – 620 stolen
BMW X5 – 551 stolen
Fiat 500 – 358 stolen
Mercedes Benz GLC – 342 stolen
Audi A6 – 268 stolen
Let's quickly glance over the table below, showing the comparison of top stolen cars in 2018, 2019, and 2020.
| | | | |
| --- | --- | --- | --- |
| Position | 2018 | 2019 | 2020 |
| 1 | BMW X5 | Ford Fiesta | Ford Fiesta |
| 2 | Mercedes-Benz C-Class | Range Rover | Land Rover Range Rover |
| 3 | BMW 3 Series | Volkswagen Golf | Volkswagen Golf |
| 4 | Mercedes-Benz E-Class | Ford Focus | Ford Focus |
| 5 | BMW 5 Series | BMW 3 Series | BMW 3 Series |
| 6 | Range Rover Vogue | Vauxhall Astra | Vauxhall Astra |
| 7 | Land Rover Discovery | Land Rover Discovery | Land Rover Discovery |
| 8 | Range Rover Sport | Mercedes Benz E Class | Mercedes Benz E Class |
| 9 | Mercedes-Benz S-Class | BMW 5 Series | BMW 5 Series |
| 10 | Mercedes-Benz GLE | Audi A3 | Nissan Qashqai |
What happens if a SORN Car is stolen?
If you own a car that you do not use, you can declare it off the road by taking a Statutory off Road Notification (SORN). You would want to get a SORN to cut off your insurance expense and avail exemption from road tax. But cancelling the insurance coverage means you will not get compensated for theft, accident, or damage to your vehicle.
In case someone steals your SORN car, and it did not have valid insurance coverage, you would be liable to bear the expense all on your own. A stolen SORN vehicle would have to go through the same process to report it pinched. If your car had a tracker, you could use it to locate the car as well. However, to avoid any unexpected loss, we advise keeping the vehicle's insurance valid, even if it is SORN. Find here how to check if a vehicle has a SORN.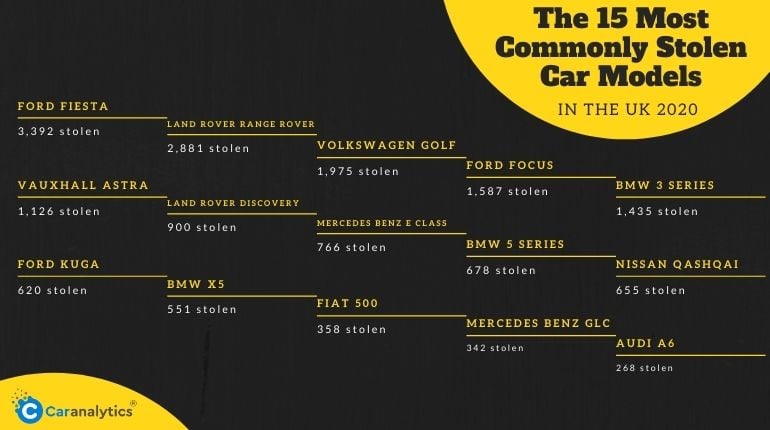 Conclusion
With the number of stolen cars UK witnessing an increase every year, we advise you to remain alert and protect your vehicle properly. If you own a vehicle that appeared on the list of most stolen cars, take extra measures to ensure its safety.
When purchasing one of the UK used cars, be sure to avoid a stolen vehicle. Book one of CarAnalytics' free car history checks or the stolen car check for only £9.95 to remain on the safe side!