A full car service checklist should include all the components that need an inspection for a safe and hassle-free journey. You can create your own list by consulting your car's owner manual or rely on our general advice. Here's a sample car service checklist for 2021.

Your mechanic should first perform a pre-engine inspection. He should check:
Car history
Timing belt replacement interval
Damage to bodywork, lamps and trims
Condition of all seat belts
Working of interior and exterior lights
Working of ABS and airbag warning lights
Windscreen washers and wipers
Horn
Working of suspension dampers
Oiling all door hinges, locks, and bonnet catches
Fuel cap
He should then inspect under the bonnet. He must check:
Cooling system
Anti-freeze protection
Brake fluid boiling point
All auxiliary drive belts
Engine breather system
Vacuum pipes
Power steering operation and fluid condition
Full throttle settings and lubricate the linkage
Battery level and lubricate terminals.
And fill up all under bonnet fluid levels.
While raising the vehicle, he should check:
Fuel lines and brake pipes
The condition and security of the exhaust
And top up the rear axle and transfer box oil levels.
And top up gearbox oil level.
All steering and suspension connections, mounting, and gaiters
Tyre's condition
All-wheel bearings for excessive 'play' and noise
Clutch adjustment and adjust.
Working and condition of front brakes
Working and condition of rear brakes, including handbrake
And change oil, filter and fit new sump plug washer.
And grease all greasing points.
And do a brake report.
With the vehicle in a lowered state, the mechanic should refill engine oil and check torque wheel nuts/studs.
Can I go for car servicing during the third Covid-19 Lockdown?
The UK imposed third Covid-19 lockdown on 5 January 2021, and with that, the government asked to close most non-essential businesses. Car service departments across the United Kingdom are an essential-retail, so the authorities permit them to operate normally. Therefore, you can take car service during the third Covid-19 lockdown.
Most garages are working in full capacity right now to clear the backlog of vehicles they missed servicing or MOT for half a year during the last year's first lockdown. Therefore, it is better to contact your chosen garage before the due date of your service or MOT
Like most other corporations, car workshops follow Covid-safe protocols set last year. Customers can have peace of mind with no-contact handovers and getting their vehicle completely clean after the service or MOT. The same guidelines will follow this year, as well.
Please note the government does not intend to offer MOT extension in the third lockdown. The only time they suggested it was in the first lockdown.
However, car sales will purely be an online affair now, as was the case in the previous lockdowns. For this reason, you might have to face a delay in the delivery if you have booked a new vehicle.
What is the cost of a basic car service in the UK 2021?
You may have to spend up to £125 for a basic car service in the UK. However, you can save money if you shop around. Understand that, the basic or full, the car service never incorporates the cost of repairs, replacements, or parts.
A basic car service includes oil change, tyre pressure check, car fluids replacement (such as screen wash fluid, brake fluid, engine coolant, and power steering fluid), spark plug check and replacement, and air filter change
What does a major car service include?
According to Money Advice, a major car service may include inspection of up to 50 or more parts, systems examinations, and adjustments. A few of the checks involve:
Engine oil change and filter replacement
Inspection of lights, tyres, exhaust and workings of brakes and steering
Making sure your mill is in its optimal condition to offer maximum efficiency
Examining hydraulic fluid and coolant levels
Probing the cooling system (from radiators to pumps and hoses)
Suspension assessment
Steering alignment
Looking at the vehicle's battery condition
How often should I service my car?
For a healthy and fuel-efficient daily drive, you need to make sure your car gets a service annually. However, some checks and services are relative to your vehicle's age and mileage. For instance, your vehicle can only cover a specific mileage between oil changes.
While your car's manual explains each inspection and replacement, here is a general car inspection/service checklist.
Monthly checks include the inspection of tyre pressure and its tread wear, belts, hoses, anti-freeze, and air filter.
Moreover, after every three months, you need to be ready for an oil change (see owner manual for oil type and replacement time), You should also examine the battery, brake oil, steering fluid, transmission oil, and windshield washer fluid.
A half-year car service must include an examination of brakes, brake lights, exhaust, headlights, horn, shock absorber, spare tyre, turn signals, wiper blades, and so on.
The yearly full car service is a must and includes inspection of all the components and systems.
What happens if a car is not serviced on time?
A regular service is not only crucial to keeping a healthy running vehicle without posing any issues but is also good to retain your manufacturer's warranty. Whenever you plan to sell your vehicle to a dealer or an individual, they surely want to see car service history and may run a service history check as well.
If you fail to maintain your vehicle regularly, you have to face serious trouble so often. Missing a car service isn't just a simple miss but big trouble, specifically if your car has an underlying problem.
If you only have been late to a service for a few miles and the vehicle is well cared with water and oil levels checked routinely, and no evident leaks or squeaks, you should book a service as quickly as possible.
If you have failed multiple services or just delaying it to save some money while thinking the vehicle will keep running smoothly without trouble. You are mistaken! The longer you will postpone the services, the more issues can arise, and higher will be the bill to fix and replace the problems. If you are thinking about keeping your vehicle's warranty and sell it at a price you like, a delay is never a good idea.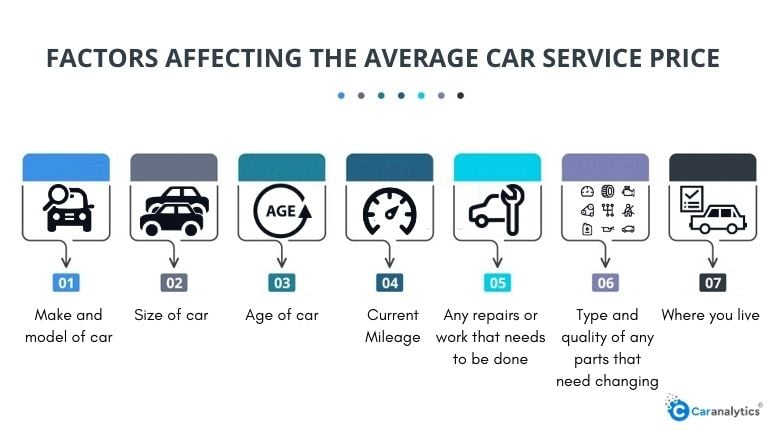 Summary
Either you are in the UK or any other part of the world; you must be vigilant about the routine car service. It will ensure your vehicle's safety, retain its warranty, help pass your MOT test, and sell your car at a good price.