According to a 2019 report by iNews, a car is stolen every five minutes in the UK. Are you wondering why these occurrences are so surprisingly high? BBC says new vehicles can be broken into in mere 10 seconds. Keeping in view these statistics, your chances of buying a stolen vehicle are very high. To avoid purchasing a ringer, you just need to run a police stolen car check.
How to tell if a car is stolen?
Unlike a damaged car, which you can spot from far, a stolen car is not something you can identify by looking at it. It could be new, clean, and running perfectly. In other words, there are no significant signs of pinched vehicles. The only way you could know about a ringer is through a car history check.
You may contact the Police directly to ask them: is my car stolen, or is this vehicle stolen? Or you can benefit from an instant report of car history. Just tell us your car's registration number, and we will reveal its stolen history.  
Are details from stolen car check reports reliable?
When you perform a car check with us, we search the stolen cars UK database held by Police National Computer to identify if the vehicle was ever stolen. If it was, we present you the date of theft and police contact information (if available).
Our history checks are 100% accurate because we source data only from the Police National Computer, so there is no discrepancy. Moreover, they are super easy to execute; just give us your vehicle's registration number, and we will reveal its stolen history straightaway.
Remember, our car theft check is part of our premium service, and there is no such thing as a free stolen check. It will just cost you £9.95 and save you from losing thousands of pounds in returning the stolen vehicle. Besides knowing a vehicle's stolen history, you will also see if it is written-off, scrapped, high risk, clocked, or financed. 
Stolen Car Check: What Information is provided?
From online stolen car check reports, you can find tons of hidden data regarding the used car. The full vehicle check reports tell you, 
If the vehicle is stolen or not
If yes, date of theft & police contact details.
Check if the vehicle has an accident history.
Outstanding finance status
Vehicle basic descriptions & specifications
Find MOT history details with an advisory notice.
Car valuation metrics like owners history, plate change history, if the car is scrapped & few details which cost you at 1.99 @ Car Analytics. 
Risk of buying a stolen car:
The risks of purchasing a stolen vehicle are immense. Either you have bought such a car willingly or unwillingly, you are bound to lose it and the money you have paid for it. Check if a car was stolen when buying a vehicle UK. 
The stolen vehicles have a marker placed on them by Police. Once the car is out on the road, the ANPR cameras will quickly identify it. The Police will pull you over and impound the vehicle while you have to face the law. 
There is very little chance you could get the money back. Even if your insurer provides coverage on the purchase of stolen vehicles, the chances of getting all the money are minimal.
Your insurance firm will first investigate the matter to rule out all odds of a scam. It takes at least a month or more since the adjuster takes time to scrutinize from all angles.
Also, Read our tips to avoid buying a theft status car.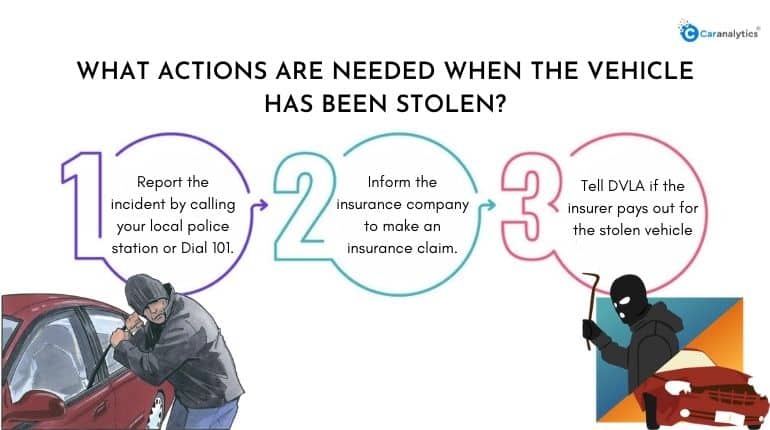 What should I do if the car is stolen?
Suppose worse comes to worst as you forgot to run the stolen car check and bought a stolen car. No worries, take immediate action to sort the issue. 
Call your local police station by calling 101: 
The officer will register your complaint after confirming your vehicle's registration number, make, model, and colour. In return, they offer the crime reference number, which is required to inform your insurer and once you demand a tax refund. The Police will notify the DVLA about the vehicle stealing.
Call your insurer:
Talk to your insurer and ask them how to apply for the insurance claim.
Tell the DVLA:
While it is hard to receive compensation for stolen vehicles from the insurer, you need to notify the DVLA that your car is sold to the insurer if you get lucky and get reimbursed for it. In case your vehicle was using a personalized number plate that you like to retain, you have to get it back before informing the DVLA that you do not possess the vehicle now. 
You can inform the DVLA online or fill the yellow "sell, transfer, or part-exchange your vehicle to the motor trade" section in your V5C document (logbook). Send the perforated piece to the DVLA with a letter mentioning your deal with the insurer. 
The remaining part of the V5C was sent to the insurance firm. If your insurer requires the whole logbook, you have to send a letter to the DVLA comprising the info of your insurer, your vehicle registration number, its make, model, colour, and your signature. Forward your message to DVLA, Swansea, SA99 1BD.
How to know if the Police mark your car?
First off, you should know that the UK Police mark a vehicle for various reasons. Depending on the reason, there are different types of "police markers." 
For instance, "Section 59 markers" are put on vehicles engaged in anti-social behaviour like illegal off-road driving, continual breaking traffic laws, etc. Similarly, the Police assign a stolen vehicle marker to pinched cars. 
Whenever a theft-status vehicle is found on the road, the cameras quickly flag them on the screens. If you happen to buy such a car unknowingly and take it on any UK road, you will be pulled over very soon.
You can find the police market if you run a police car check. The national police database holds the details of the police-marked vehicles, and we directly fetch data about the stolen car from the police marker service, so don't worry about the accuracy.