Every vehicle running on the UK roads, as well as anywhere in the world, has a distinct stamped-in vehicle identification number (VIN). No two cars in the world have the same VIN, so you can call it a vehicle's fingerprint. When you are in the market to buy a vehicle, the two numbers you should check include the Registration Number and the VIN. The reason is, all the data about a vehicle is maintained against these numbers. Now the question is how to locate these numbers. While the registration number is visible to all through number plate, you need some efforts to trace the VIN. There are multiple ways to find VIN for free. However, before we tell you how to trace VIN for free, we first need to explain VIN.
What is VIN? What Can You Do With a VIN?
VIN stands for Vehicle Identification Number, which is usually a 17-digit identifying code containing letters and numbers. We also call it Engine Number, Chassis Number or Identification Number. Vehicles created before 1981 may have VIN of varied lengths (usually 11 to 17 characters). Unfortunately, vehicle history data on these is not available.  
If you think VIN is just a reference number, you cannot be more wrong. It contains very useful information – characters and digits identify where the car was built, what is its brand, engine size and type, model year, the plant it was assembled at, and last but not least, its manufacturers' security code.
If you know the VIN of a vehicle, you can find the vehicle number plate (VRM). However, that is only possible through our VIN for free service (more on it later).  
Where to Find VIN Number?
Finding VIN for free is easy if you know where to find the identification number. Here are a few places to look into:
Peek under the bonnet to find a VIN plate (It is usually black or blue, as shown below).
The second place is likely under the windscreen.
You can also locate a sticker into a door mentioning the VIN.
You may also trace the VIN on a car's service book. However, with new vehicles, the service log is digital, saved online. Therefore, you have to ask the seller to see the details.
Finally, you can find it on the V5C logbook (picture below).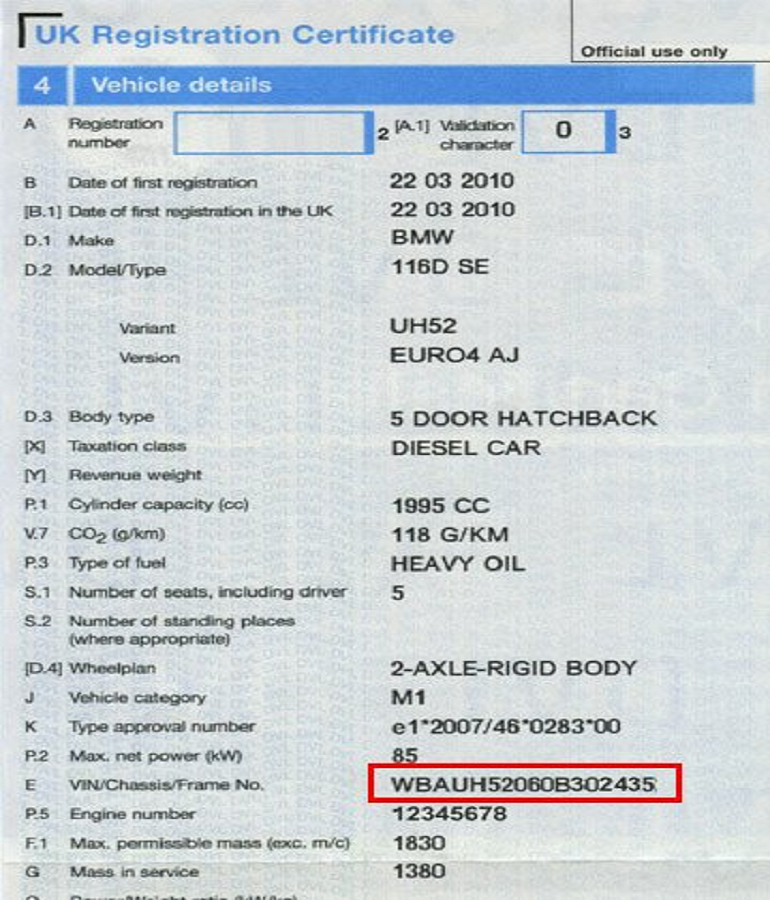 Make sure you check all these places to locate the VIN. The vehicle identification number must be the same at all places. If you find any discrepancy, walk away from the deal.
Does Car Analytics Show the VIN?
Yes, the VIN check comes under our Basic Vehicle Check (available for just £1.99), unlike other services that require you to pay at least £10. If you are looking for completely free VIN check UK, you will be disappointed because it is a premium service.
Having said that, you should know we display only the last 5 digits of the VIN in our report (check sample). We are bound to follow the DVLA data disclosure laws, so we cannot show you all the identification numbers. 
How to Differentiate Between Fake and Original VIN Numbers?
Once you locate the VIN on the vehicle, order our basic car check. Now, match the last 5 digits we give you with the VIN you have found. As mentioned earlier, the VIN must be the same at all places on the car. If any number is missing or different, know that it is a fake identification number.     
We hope you have found our guide useful to know VIN for free. If you still have any questions, do not hesitate to contact us. Get our free vehicle check to get necessary information about the car you want to buy or go for a Basic or Premium Check to know the VIN; our vehicle data report always provides accurate information. See what our customers are saying about us and understand that your satisfaction is our utmost priority. 
Make sure that you are following Car Analytics on social media, we have Facebook, Linked In, Youtube, Instagram, Twitter and Pinterest we will post all our latest deals and offers.
Summary
Article Name
Quick Ways to Find VIN For Free | Car Analytics' Guide
Description
Looking to Find VIN for Free? Read our guide to know the quickest and easiest ways to locate the vehicle identification number or your vehicle.
Author
Publisher Name
Publisher Logo