In a time where we use an app for every single chore, how we can forget about driving apps. If chosen right, these driving apps can save you money, time, and fuel. With so many of these available for Android and iOS, the question is which ones are perfect driving companions for your trips in London and beyond. Today, we will talk about five best driving apps that will make your journeys enjoyable, hassle-free, and affordable.
What is the driving/drive app?
Before we explain these applications, we feel you should know what a driving app is. In simple words, a driving app is the one that assists you in driving. From finding details of real-time traffic conditions, speed cameras, and accidents to recording in-car videos, and locating parking and cheap petrol pumps, these driving apps can make commuting easier on the road.
Here is the list of the best driving apps for this year:
Top 5 Driving Apps
1. Waze:
One of the world's most significant community-based traffic and navigation apps, Waze offers turn-by-turn navigation. However, that is not what makes it so popular. It is the user-submitted data that tells "Wazers" the real-time traffic conditions, including extensive traffic areas, hidden police cars, and potholes.
We all have been in a situation where we are held up on a trip with no clue why or how long we will remain stuck. If you want to avoid such a state of affairs, download Waze. It is accessible in both Android and iOS, and the best part it is free.
2. Smart Dash Cam:
Dashcams have become so popular in the past few years that some motorists in the UK consider it a must-have gadget for their vehicles. They can record inside and outside videos not just for fun, but also for evidence of burglaries and accidents. The owners with vehicle dash cams can even enjoy a lower insurance premium. The only disadvantage is the cam's higher price tag, and that's where the Smart Dash Cam app (Android, iOS) comes in the picture. It authorizes you to use your smartphone's camera as a dashcam.
The good thing is you can set the recording loop for each video, so you do not run out of memory in just a single video. Do not worry; you can still use your cellphone while it records the happenings outside. It is one of the excellent driving apps to safeguard you against wrong allegations after an event, road rage, drunk drivers, and insurance scams.
3. Parkopedia or JustPark:
Navigation apps work perfectly to find places and reach there in time. However, when you reach your destination and do not see a parking space, what should you do. Do not fret; there are parking apps like Parkopedia and JustPark.
Parkopedia's database contains over 70 million parking locations in 15,000 cities, including London and other cities in Great Britain. Therefore, it will not be challenging to find a parking spot and rates through this app (Android, iOS). Once you detect the ideal location, you can book it online, as well.
JustPark (Android, iOS) works the same way as Parkopedia with the only difference it is more popular thanks to the accolades it gathered at the 2017 British Parking Awards and Richard Branson's 2015 VOOM event.
The app contains information of over 1.4 million parking locations as well as off-street parking choices (such as vehicle parks, private areas, and even driveways), and on-street parking options. The latter comprises of parking meters and free parking regions.
Besides easing the way to find parking spaces, it also lets you book a guaranteed space and pay through the application. You can use a debit/credit card, PayPal, or Apple / Android Pay. Once you get confirmation of your booking, the app will also guide you to the parking location.
Both Parkopedia and JustPark are exceptional applications for those searching for a parking space they are not familiar with. The former is more user friendly while the latter is more practical, even letting you rent out parking spaces on private lands.
Both provide you with cheaper parking spots compared to the expensive inner-city parking and multi-storey vehicle parks. You can even earn some cash by letting others use your driveway when it is empty.
4. PetrolPrices:
Owing a vehicle comes with a lot of expenses, with fuel being the most frequent cost. With varying petrol prices at different pumps and biweekly or monthly regulation of fuel charges by governments, how would you be able to save money on it?
Consider PetrolPrices to identify the most inexpensive petrol pumps near London and across the UK. Set up alerts to get informed of the low-priced options every week, assisting you in keeping your fuel costs down!
The free app is accessible on both Android and iOS.
5. Apple Maps or Google Maps:
Either you have an Android or an iPhone, you would find Apple Maps or Google Maps pre-installed on it. Both complementary mapping applications boast turn-by-turn navigation and real-time traffic data for the ease of its users. With most new vehicles supporting Apple Carplay and Android Auto, you can navigate using these handy mapping apps on your infotainment screen like a sat-nav device.
While both of these come with their pros and cons, Android users can benefit from both the apps, while iOS users can only use Apple Maps. The reasons people use these apps frequently are the ease of use and continuous upgrades from their creators.
What is the Google Drive app?
While searching for driving apps on a search engine, you might have come across the Google Drive app, which looks like another navigation app for motorists. Contrary to this assumption, it is Google's cloud storage service similar to Dropbox and Apple's iCloud. This app does not give you any advice or help to drive better. For this purpose, you should download a driving theory test app from the DVSA.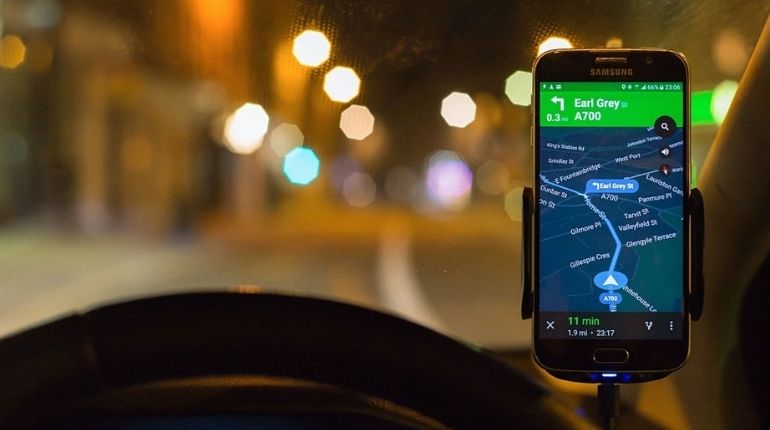 Final Words
There you have it; Car Analytics has given detailed information about the top 5 driving apps to make your commute less stressful and enjoyable. While you download these applications with a thought to buy or sell a car, look at our car history check to avoid buying a financed, stolen, scrapped, or written-off vehicle.
Have a look on how our customers feel about us and make sure that you are following Car Analytics on social media. Wehave Facebook, LinkedIn, Youtube, Instagram, Twitter and Pinterest. Car Analytics will post all their latest deals and offers.