If you are considering buying a used car in the UK, you definitely need a full car history check report, which may cost you a few pounds. The report would save you from buying outstanding finance, scrapped, written-off, mileage clocked, or stolen car. With so many services available, the question is which vehicle history check provider is offering the cheapest HPI check in the UK? Today, we will honestly analyse three top car history check providers and tell you which is the cheapest of all?     
Which Company Is Offering The Cheapest Car Check In The UK?
Well, do not think we are boasting but we offer the cheapest vehicle check in the market.  
| | | | | |
| --- | --- | --- | --- | --- |
|   | Car Analytics | HPI Check | Total Car Check | My Car Check |
| Free Check | Free | N/A | Free | Free |
| Basic Check  | £1.99 | £9.99 | £1.99 | £1.99 |
| Full Check | £8.95/£6.99 | £19.99 | £8.99 | £9.99 |
*Prices and data above, as of 14th May 2020, E&OE
While the table clearly shows, which company is offering the cheapest HPI vehicle check, let's discuss each service in detail to enlighten you. 
After all, every check is different and may contain a different set of information. 
HPI Check
HPI Vehicle Check is the most popular vehicle history check in the market, mostly because the term HPI Check itself has become the standard for conducting an inspection on used vehicles, just like Google or Xerox in their respective industries. 
In reality, the HPI vehicle check is just another car history check conducted by the firm HPI Ltd. The checks they offer are similar to what we and other companies provide. So, why spend more than double the price for the same vehicle check the HPI offers? Now let's go deep into details.  
HPI offers two levels of checks: the Basic Check and the HPI Check®. At £9.99, the Basic Check provides information regarding stolen or written-off status, outstanding finance, whether the vehicle has been recorded as scrap or has been imported/exported. 
The slightly expensive full HPI Check comes with a £30,000 data guarantee and offers additional checks, including mileage discrepancies, clone check, finance agreement details, number of previous owners, CO2 emission details, stolen logbook check, MOT history, vehicle tax info, past/future values, full plate change history, estimated fuel cost, the total cost of ownership, and market valuation among other things. 
The full HPI vehicle check costs £19.99, and if you opt for multiple checks, you only need to pay £29.97 for three checks redeemable within 2 years.
Total Car Check
Total Car Check is another vehicle history check company where we can check car details & that claims to be the cheapest provider both for individual and multiple car checks. They provide you with two levels of checks, i.e. the Silver Basic Check and the Gold Full Check. 
The former costs £1.99 and confirms standard details including the MOT history, mileage, write-off, stolen, import/export, scrapped status, as well as VIN check. In the £8.99 Full Check, you get to know the above-mentioned details in addition to car outstanding finance check, logbook loans check, and valuation along with a £30,000 guarantee. 
If you opt for multiple checks, the price goes down to £14.99 for 3 checks and £19.99 for 5 checks.
As we said earlier, we are the cheapest car history check provider in the market while we also offer the most comprehensive details, compared to both HPI and Total Car Check. 
While our car check is ideal for getting initial details, you can upgrade to get the Basic Check to uncover the most vital details for only £1.99 or straightaway get a Full Check for just £8.95 with up to £40,000 guarantee under certain terms. 
All subsequent car checks are priced at £6.99 for a lifetime after the first full check. 
Our comprehensive report covers standard details, such as MOT status and history, tax status, vehicle age, and whether it has been imported/exported. The Basic Check package includes the standard information in addition to VIN or Chassis number check, engine number, colour and plate change record, scrapped record, keepers' history, VRM record before registration with DVLA, and VIC inspection. 
Further things included in the full report comprise of all the basic checks in addition to write-off details, outstanding finance, police stolen record, certificate of destruction, mileage anomalies, and whether there is any financial dispute over ownership marking the vehicle as high-risk.
Based on the colour scheme we use in the report, it highlights areas that are good to go, those that are for information purposes only, and those that need attention. The report also provides valuations based on estimated mileage for vehicles less than 15 years old, wherever available. 
You can even get to know the estimated running costs, economic and environmental details, performance details, and mileage estimates, etc. in the basic as well as upgraded versions.
Verdict
Comparing the prices and the premium details available in our report with the HPI and Total Car Check, our service speaks for itself. Just get a free vehicle check history report or order a full report by entering your car's registration number and find it yourself!
The best part of our report which our customer loves is the text analytics that we have done from MOT history data. Our algorithm will scan through MOT advisory and failure notices and provide you with an intuitive report which is very user friendly with key phrases and named entities.
Dealer Trade Check
We have an exclusive dealer portal, with the lowest industry price. It requires no monthly fee and has a free sign up. After verification, the dealer's account is credited with  £20, in their first top-up for free. They receive around 75% offer from our retail price. We provide market insights for dealers to help ease their business. Our exclusive dealer portal gives access to all vehicle history reports in one place.
Make sure that you are following Car Analytics on social media, we have Facebook, Linked In, Youtube, Instagram, Twitter and Pinterest we will post all our latest deals and offers.
Summary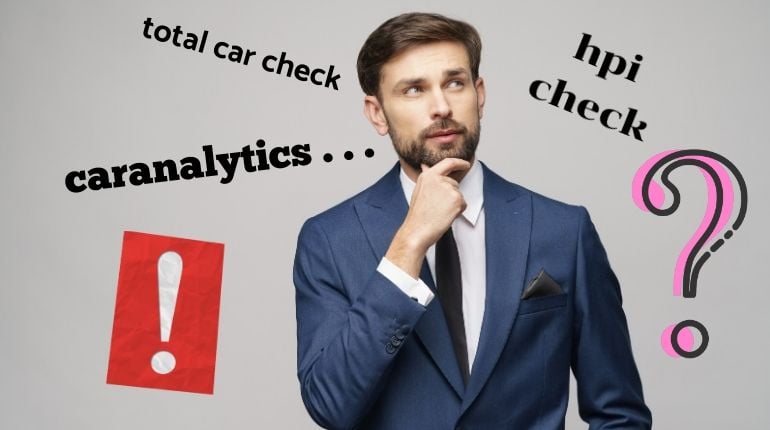 Article Name
Who Has the Cheapest HPI Check in United Kingdom?
Description
Caranalytics offers the cheapest car check in the UK. We just charge £8.95 for a Full Car Check, which is about half the price of HPI check.
Author
Publisher Name
Publisher Logo