We all know how expensive luxury cars can get. A comfortable, stylish, and opulent ride is bound to come at a hefty price tag. Evidently, purchasing a new BMW, Audi, Mercedes, Bentley, or Rolls Royce is a dream of many. But what if we tell you that the second-hand market provides an opportunity to get your hands on the luxury vehicle of your liking at a lower price tag. Considering the high-quality materials used in the production of luxury vehicles, the effect of depreciation is less pronounced on them. Meaning, your new best-used luxury car might be as good as new!
So, what could be the best-used luxury car for you? Without further talking, let's jump straight into some frequently asked questions and the best-used luxury car you can buy.
Is second-hand luxury cars worth buying?
Purchasing the best-used luxury car comes with its pros and cons. These cars feature a premium look, and the product materials are of the highest grade. Most high-end vehicles boast materials such as aluminium inserts, walnut wood trim, premium leather, advanced tech, and so much more. Buying a used luxury vehicle means you can get your hands on it at a lower price.
Most of these cars witness hefty depreciation in the first year, meaning the original owner already has incurred a significant loss in terms of devaluation. In coming years, these high-end vehicles maintain their worth, so your best-used luxury car would not lose value notably.
On the other hand, with a used luxury ride, you may not enjoy the warranty. Depending on whether you have purchased the car from a private seller or a dealership, the warranty may vary. Owning a luxury automobile without or with little warranty can cost you big-time, as their components are quite expensive. Any damage to them means you would have to pay for it from your pocket.
Furthermore, the used luxury car you intend to purchase may feature outdated technology. It may not come with a properly working navigation system owing to obsolete data. Besides, the infotainment screen might not connect well with your smartphone. If you are more concerned with remaining up-to-date through new technology, we recommend purchasing a new luxury vehicle or the one that is not more than three years old.
Here are more tips about buying the best-used luxury car.
What luxury car is the cheapest to maintain?
Most people consider the price of the luxury vehicle or monthly instalment while buying. What they forget is the cost of maintaining the car. Fuel, maintenance, and repair can all add up to make it difficult to retain your high-end ride. So, let's find out the cheapest to maintain luxury cars (not essentially the least pricey to purchase) in 2021.
1.2021 BMW 330e
For 2021, BMW has added the 330e plug-in hybrid in the lineup offering pulse-racing athleticism in an environmentally friendly package. The company says the 2021 BMW 330e delivers up to 22 miles on pure electricity, while the conventional hybrid drive will give you up to EPA-rated 28 mpg combined.
The sports sedan boasts a turbocharged 2.0-litre 4-cylinder mill and an electric motor taking juice from a lithium-ion battery to create a total of 288 horsepower. BMW says it can go from zero-to-60 mph in around 5.6 seconds. For better grip on the road, it comes with the all-wheel-drive configuration. The best part is its three years or 36,000 miles of free maintenance.
2. 2020 BMW X3 xDrive30e
If you fancy owning a high-performance BMW vehicle that offers extra room for luggage, the 2020 BMW X3 xDrive30e should be on the top of your list. This best-used luxury car delivers 28.7 cubic feet of cargo room with the rear seats intact, and 62.7 cubic feet with them folded down.
The X3 xDrive30e plug-in hybrid houses a turbocharged 2.0-litre 4-cylinder engine assisted by an electric motor powered by a lithium-ion battery. The total power output is 288 horsepower enabling this SUV to zoom from zero to 60 mph in 5.9 seconds. Additionally, the all-wheel drive is standard, allowing you to drive around 20 miles on pure electric power. On the other hand, the conventional hybrid system delivers approximately 24 mpg. Like the previous car in our list, the slated upkeep is free for three years or 36,000 miles.
3. 2020 Lexus ES 300h
Apart from its luxurious cabin and plenty of innovative features, the Lexus ES sedan had made a name for its untouchable dependability. Add the great fuel economy to its merits too, as the 2020 Lexus ES 300h offers 44 mpg combined using the hybrid powertrain.
The powertrain includes a 2.5-litre four-cylinder engine and an electric motor, jointly producing 215 horsepower. The best part is its instant torque that you get upon putting your foot on the pedal. It means the sedan is quick on its toes and can go all-electric on lower speeds. The Japanese luxury automaker also takes care of the maintenance. You can enjoy two full free services from the company, making it one of the cheapest luxury cars to maintain.
4. 2020 Lexus RX 450h
If you love choosing a luxury SUV for your family, the Lexus RX is probably the best in the lot. The comfortable ride, posh materials, and lasting reliability have already won many hearts in the mid-size SUV segment. The utility vehicle can easily seat five passengers and carry plenty of cargo. The L model gives you the option to add third-row seating for seven-passenger fun.
The 2020 RX 450h is no slouch in the power department. Powering the vehicle is a 3.5L V-6 and two electric motors, one of which sends power to the rear wheels. The EPA-estimated fuel economy stands at about 28 mpg combined, making it very fuel-efficient in its segment. The first two services are on-the-house, minimising the ownership costs even more.
Why are used luxury cars so cheap?
Used luxury cars still cost higher compared to any normal vehicle. However, when you analyse the prices with their brand new luxury models, they are moderately lower. Some luxury SUVs and compacts hold their value even after many years of use. Alternatively, some posh cars like large sedans tend to lose their worth comparatively quicker after a few years and driven miles.
In other words, some posh vehicles hold their value over time, while others tend to depreciate quicker, hence are available at a lower price. A high cost of maintenance is also a reason that constitutes rather lower selling prices. Moreover, high-end luxury vehicles are a test-bed for new technologies released by the automakers. Until these technologies get well-tested and implemented in more affordable models, they run a risk of system failure that pushes the prices down.
Rich guys, who can afford to purchase a new luxury car, would not prefer to go for its used version anyway. These reasons translate into a smaller market of used luxury cars that causes excessive supply against limited demand. It ultimately forces the prices down.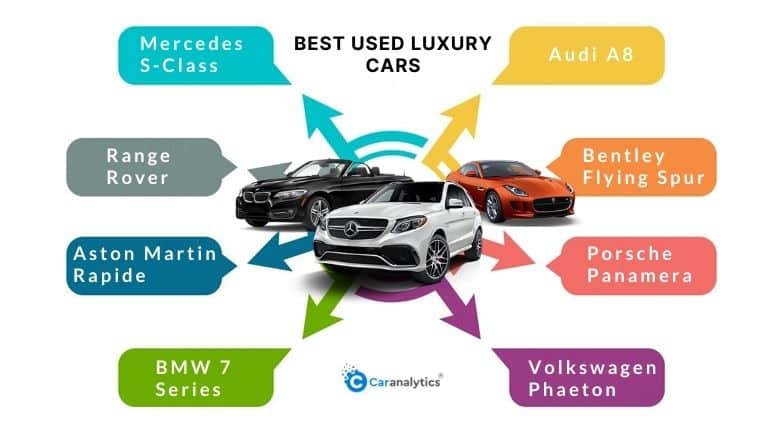 Conclusion
When you are out to buy a luxury car, the stakes are very high. We are sure you do not want to end up purchasing a financed, clocked, stolen or written-off vehicle. Stay safe, order the full car check for just £9.95.