Contrary to a decline in used cars prices with age, this year we saw an unusual rise in their value mainly due to pandemic. The demand for secondhand cars increased owing to people avoiding public transport. Moreover, people who had the jobs and money had used it to buy vehicles because they couldn't go on holiday. Considering this situation, we advise you to stay vigilant with vehicle enquiry and run a car check before selling or purchasing a used vehicle.
According to pricing data professionals, Cap HPI, "used cars are worth 3.2% more than they were at the same time in 2019." While it is a deviation from the typical trends that used cars prices undergo, not all vehicles have felt the effect of this to a similar extent. Some prices have gone through the roof, while others have remained nearly unaffected, and a few have even fallen.
We have written a detailed article on how Covid-19 influenced the used car prices in the UK. Do not forget to give it a read.
Your negligence should not be regretted later for not taking a free car history check.
Here is a list of the top 10 vehicles with the steepest rise in prices in 2020. We have compiled this based on valuation data from Cap HPI, the vehicle enquiry experts.
Citroen C3 Picasso (2009-2017)
+17.24 per cent, +£1,050
It's no surprise that the Citroen C3 Picasso (small MPV) should be the one with the highest increase in its value. This genre gained popularity in the UK shortly after its introduction, mostly due to its clever design. While it was initially thought of as a cheaper alternative to traditional and bigger SUVs, the mini MPV gathered accolades due to its genuine inbuilt appeal. The Citroen C3 Picasso is a sleek styled five-seater with smart features. It is affordable, reliable, practical, and looks good too.
Jaguar F-Type (2014-2020)
+14.25 per cent, +£4,261
The next car that was most in demand this year is the smart and good-looking Jaguar F-type. Whether you choose the convertible or the coupe version, you get a thrilling driving experience with more power and an affordable price tag. Even before the pandemic, the Jaguar F-Type lineup was popular with the masses, especially with the younger generation drawn towards sports cars.
Volkswagen Caravelle (2015-2019)
+13.64 per cent, +£3,625
The used motorhome and caravan market saw a startling increase in prices. This rise came amidst people taking more 'staycations' and spending extra time on shores. The Volkswagen Caravelle has more space to offer than a large MPV, comfortably seating seven adults and still having ample room left over for luggage. You can find other alternatives in this automobiles genre, but a rare few can offer as much space as the Volkswagen Caravelle. It features a powerful common-rail diesel engine as well as a luxurious interior. The price tag might seem a little steep, but seeing the soared demand, we see it did not deter many buyers.
Toyota Land Cruiser (2009-2018)
+13.54 per cent, +£3,216
While the Toyota Land Cruiser might not be the most popular 4×4 in the market, there is no denying that the SUV comes with excellent off-road ability, superb reliability, and generous equipment. There aren't many Toyota Land Cruisers in the used car market, which could have contributed to its steep rise in value. Its low volume in the used market is in part due to it not being a big seller. And because owners tend to hold onto it for long periods, as well. Its primary value lies in how it combines genuine off-road ability with added luxury.
Mini Cooper S (2013-2018)
+13.44 per cent, £3,216
With public transport not being the number one option anymore, most people started to look for alternatives. The demand for Minis soared, and so did the price for these vehicles. The Mini Cooper S is one of the most engaging small hot hatches in the market. The best part, the Cooper boasts a 2.0-litre engine, a talented chassis, and a reasonable price tag. It is the ideal option for people who aren't searching for a race circuit car and want a quick Mini. Overall, it is a spacious, well-built, affordable, and fun mini with fascinating technical features that don't incur insane running costs in the long run.
Suzuki Jimny (2005-2018)
+11.53 per cent, £1,008
Compact and resilient, this iconic off-roader has always been well-liked with its followers. The small SUV has a genuine character and can ascend every mountain, ford every stream, and plough through mud and sand. It's a perfect choice for anyone wanting an inexpensive and less cumbersome alternative to a large SUV. It has an ideal combination of dainty dimensions, affordability, and extreme mountain-climbing abilities.
Volvo XC60 (2008-2017)
+11.27 per cent, +£1,850
In uncertain times such as these, most buyers were on the lookout for a practical solution that would also
look good. The XC60 from Volvo is an affordable luxury SUV that turned out to be the perfect solution. It brings together the right amount of quality, reliability, safety, desirability, and affordability. The popularity with used car buyers is accredit-able to its sleek looks, cutting edge infotainment gadgetry, and sophisticated diesel engine. This mid-size SUV fares quite well against its competitors and is best suited to people who prefer cruising comfort with the solid build quality and clever engine.
Jeep Grand Cherokee (2011-2017)
+10.24 per cent, +£1,992
This robust and highly capable 4×4 saw a 10.24% rise in value. It has undergone plenty of improvements and upholds the company's promise of durability. The SUV is an excellent combination of value, space, and off-road ability. Its large and gaudy front grille and bumper, along with the big wheel arches, give the Cherokee an aggressive presence. It never gained much traction in the UK market, and the used versions do not see too well. Therefore, it can be not easy to find a used version. It might, to some extent, explain why its price has gone so high this year.
Aston Martin Vantage (2005-2018)
+10.14 per cent, +£7,306
The Aston Martin Vantage is the car with the most significant rise in terms of cash. This modern high-performance icon has an unmistakable character, a seductive style, and delightful engineering. It garnered a reputation for being the most affordable and possibly the best supercar of the era, from the British brand. It is the best mix of sensational performance and looks, and the surge in its demand and value is a clear indication that people are willing to splurge on luxury vehicles during the pandemic. Despite its costly price tag, the Aston Martin Vantage is worth every penny with its lavish interior, muscular handling, and unmatchable English brilliance.
Mazda MX-5 (2015-Present)
+9.8 per cent, £1,017
It comes as no surprise that one of the best-selling sports cars in the world would see a rise in value. The stylish MX-5 is fast, safe, efficient, and fun with low running costs. It comes with modest power output and nimble chassis, making handling easy. Whatever the car lacks in power, it makes up in terms of practicality and agility. The used Mazda MX-5s sell for under £10k and are ideal for buyers looking for cheap thrills in these trying times.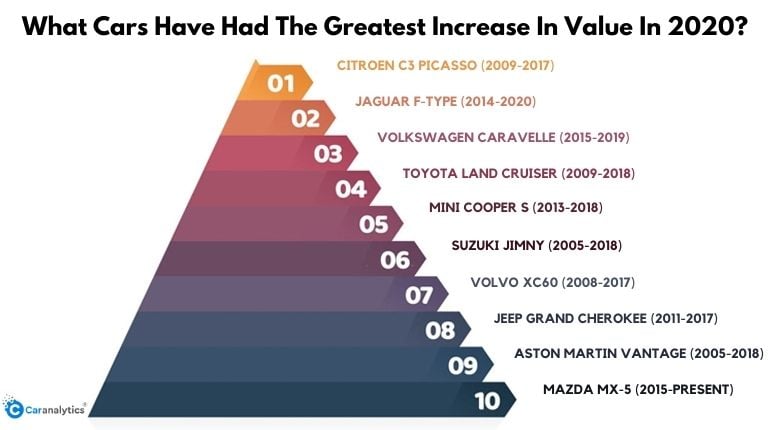 Conclusion:
Used cars prices have been on an uncertain cycle of rises and falls. Overall, the used car's value has increased by 3.2%, though not all vehicles have felt this effect to the same extent. The Citroen C3 Picasso witnessed the highest rise in price at 17.24%, which amounts to a cash value of £1,050.