When it comes to buying a used van for your commercial needs, you got to be sure it is 100% reliable. Unfortunately, 1 in 4 vans comes with some sort of hidden history in the UK. So, the question is, what is the best way to avoid purchasing a dud. There are essentially two ways: van inspection and van history check.
A van inspection typically includes checking of tyre quality and tread depth, vehicle body condition, working electrics like headlights, blinkers, interior lights and dash lights, engine/suspension/exhaust and driveline state, seatbelt condition, engine and driveline fluid leaks, brake efficiency, and so on.
On the contrary, a basic van check tells you the make, model, and registration of the vehicle in question. Mostly, this info is free, and you can get it through the DVLA.
Our DVLA van check includes MOT history and MOT due date, van tax status, van's age, odometer reading, van's estimated running cost per annum, van's environmental details, and general specs.
If you want to know more about the van you are interested in, like the number of keepers, number plate change history, VIN check, colour change history, scrapped status, etc., you unavoidably have to pay.
If the van you are going to buy is expensive and you have specific questions about its past, such as information about stolen, insurance write-off, and outstanding finance, an advanced van reg check might make more sense.
How can I check if my van is insured?
Thanks to the centralised databases, you can now check the status of your insurance online. A van insurance check is not part of our van history check (in fact, it is not part of any data check in the UK), but we can tell you the way to check van insurance. Query the Motor Insurance Database by giving your vehicle registration number, and you will receive your desired information.
Do all van insurance companies require a licence check code?
Yes, almost all insurance firms these days require a licence check code from you before they give you a quote. The reason is that not all drivers have a good enough memory to recall all the information on their driving van history precisely. On the other hand, some of them purposely lie while applying for van insurance. As a matter of fact, one in six motorists under-declare their motoring convictions.
When a driver is at a higher risk compared to what he essentially represented himself to be, ultimately, it increases the premium of insurance for everyone. You should also know that a claim made on false details will not give you anything. The insurer can refuse to pay.
With the DVLA licence check, the insurer typically wants to know the following:
Your entitlement to drive
Penalty points and convictions
Past disqualifications
The type of licence held.
The length of time the licence has been held for
You can get your licence check code here.
Van valuations
It pays to get a van valuation before buying it. Knowing the market value of a van history check gives you the liberty to negotiate the price better. It would provide you with a fair idea of the price you should expect to pay during your van purchase. On the other hand, if you are a seller, you get to know how much you can expect from the buyer.
While there are many free van valuation tools online, they might give you a genuine van valuation price. Also, you at least need to know the dealer forecourt value, the trade-in price, and the private sale price to get a good idea of the van's value.
CarAnalytics' van history check report provides you with a 5-band valuation, giving you the true picture of your van. It will just cost you £1.99 and is worth every penny, saving you thousands of pounds in the purchase. The best part about our van valuation check is that it comes with lots of other useful information like keeper's history, plate change history, colour change and scrapped status, VIN check, etc.., that gives you more insight into the vehicle's past. Even if you want to check van MOT, you get it in this report.
Van Number Plates check
A van number plate check is part of our van checker service. Either you get a van HPI check or our number plate check, the information would be the same. However, there is a significant price difference – CA's £1.99 vs. HPI's £19.99. So, you can see, you can save £18 with our van number plate check. Try it!
Regarding what this check can bring to the table in terms of saving yourself from a scam, it can reveal the van's identity. You could know if the van has a plate change, and if yes, you could get the plate number it was changed to. Then, you can run a check with us to get all the info on the old plate. If there are any outstanding issues on the previous plate, we will list all of them in our van history check. What those issues could be, we have described all of them in this post.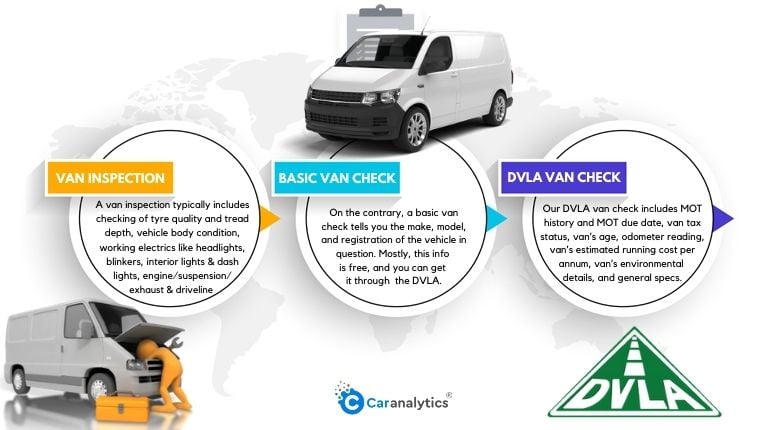 Van Theft In UK or Van stolen check
According to a recent study, about 30 vans get stolen every day in the UK. And because most vans do not come with a standard alarm, we aren't doing much either to deter the thieves. That said, the modern robbers are now well-equipped; they use things like Relay Attacks and Signal Jammers to get away with the vans they like.
While you may not be able to do much to stop a robbery, you can certainly avoid buying a stolen van or pickup truck by running a van stolen check or van history check.
It is a part of our full check and will cost you £9.95. Before you think it is costly, understand that besides a stolen check the report tells you if the van has outstanding finance, accidental, scrapped, high risk, cloned, clocked, or otherwise.
You should also bear in mind that buying a stolen van will leave you empty-handed as soon as ANPR cameras flag you on the road. The Police will stop you over, repossess the vehicle and hand it back to the owner. Need to know more, here's an informative post.
To know about our work? Come check how others feel about our service. Don't forget to follow us on Facebook, Instagram, LinkedIn, Pinterest, Twitter, and YouTube for the latest information and offers!