Buying a used van in the UK requires a lot more vigilance than purchasing a car because there are so many extra things to consider to ensure you do not end up buying a dud. Things like van size, wheelbase, weight, transmission, door layout, suspension condition, mileage history, external and internal damage, rust, seatbelts, locks, heater, air conditioning, tires, etc., all need more careful inspection than cars if you want to acquire a commercial vehicle according to your daily work requirements. While we cannot deny the effectiveness of these structural and mechanical tests, the Van Check is the most crucial inspection you cannot ignore at all.
Why get a van history check?
Get a van check to ensure the vehicle is not stolen and that its mileage is accurate. Because we see so many leased vans on the UK roads, the chances of mileage clocking are very high. You may ask why owners alter the mileage on the odometer. The reason is van leasing firms impose fines on vehicles that accumulate too many miles. If these facts are not enough for you to consider a van check, you should ponder over the following points from independent vans checkers in Great Britain.
1 in 4 vans has a hidden history from a write-off to a mileage anomaly.
1 in 8 vans comes with outstanding finance
More than 41 vans checked every day are stolen
1 in 5 vans has a number plate change history
1 in 11 vans has a mileage anomaly
1 in 17 vans inspected daily are an insurance write-off
While these stats may vary for different vans checkers, the point is obvious. Just like cars, checkered vans have their own dark history, and the only way to uncover the hidden issues is through a van reg check.
How much is your van worth free valuation?
Before buying or selling any van, you must know its worth. Although there are ways to determine the value of a van on your own (know your car's worth), we strongly suggest you use a van valuation tool to know its price. Both free and paid valuation tools are available online, so the question is:
Which one is the best?
We have a suggestion; if you are in the process of shortlisting a van for your commercial needs, you may use a free valuation tool. However, if you have made up your mind on a van, better run a paid valuation check. We offer van valuation at a very cheap rate.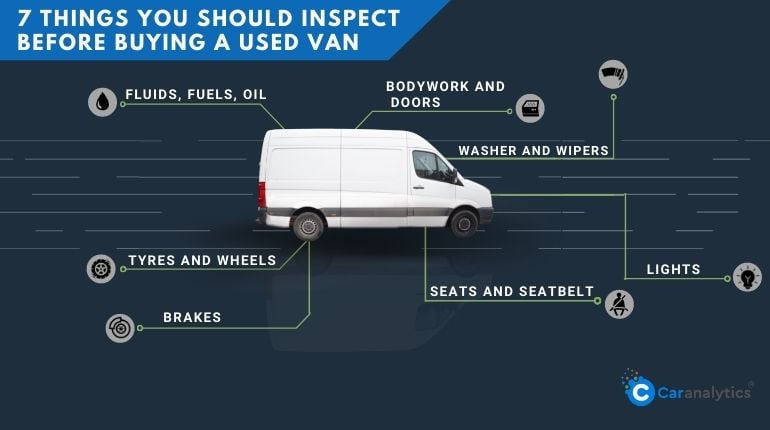 Check the value of your van by registration number?
When talking about a paid car valuation, you should consider using our van valuation tool, which costs just £1.99 and provides an eight-band assessment based on its mileage and market value. We offer you a price for dealer forecourt, trade retail, private clean, private average, part exchange, auction, trade average, and trade poor.
You just need to provide us your van's registration number, and we will tell you its worth along with the number of previous owners it had, its number plate change history, colour change history, scrapped status, VIN check, and so on.
Check if a Van is on finance?
As stated earlier, 1 in 8 vans that are inspected in the UK by vehicle data check companies has some kind of active finance or loan against a van. Therefore, it is crucial you run a Car Analytics van finance checker. It costs just £9.95 and comes with a wealth of information from the van's MOT history, mileage, outstanding finance to written-off, and police-stolen status. Check our sample report to know what else you could learn about a vehicle with our van check.
What accident damage will a van history check highlight?
Unfortunately, no van check can exclusively point out accident damage in the inspection report, not even an HPI van check. That said, our van history check clearly indicates if the vehicle was damaged in an accident and written off by its insurer. If you really like to find out the accident damage, you need to perform a vehicle service history check.
Bear in mind the accidents not reported to the insurance firm; you cannot know about them until you carry out a physical inspection. We wrote a detailed article about vehicle accidents. You should read it to familiarise yourself with a car accident check.
What other van history check searches Car Analytics can do for free?
We perform a lot of tests in our free van history check. There is so much information in our report that you might doubt we have sent you our premium van check report by mistake. Do not worry; we make such mistakes daily! Here's what you will get in our free van check:
Van MOT status and MOT due date.
Van's tax status.
The date van was first registered & its age.
Van's mileage at the time of the last MOT inspection.
Van's Make, Model, Fuel Type, Colour, No of doors, no of seats, no of gears and engine size.
Van's yearly running cost (depending on the fuel expense, tax, and MOT price).
Van's economic and environmental information (it includes fuel consumption and CO2 emission data).
Van's performance figures (such as Top speed, Power RPM, Power BHP, Power KW, and Torque).
Complete Van MOT history containing advisory and failure warnings.
Final Words
Next time you are in the market to buy a van, ensure you run our free van history check to obtain the necessary information about it. Once you perform a vehicle inspection and cross-check details with the logbook, it is time to get our full van reg check. It will save you from purchasing a stolen, written-off, scrapped, or clocked van.
Have a look at how our customers feel about us and make sure that you are following Car Analytics on social media, we have Facebook, Linked In, Youtube, Instagram, Twitter and Pinterest we will post all our latest deals and offers.