Used car prices soared gradually since the start of the initial lockdown, back in March. Early reports hinted at a lack of demand because most people had to remain in their homes. However, the used car market dealers soon started reporting a surge in sales.
The rising used car prices are easy to explain since it is a classic case of "supply vs demand." The supply of new cars slowed down due to lockdown restrictions on car manufacturers, causing a surge in their prices. Most people were keen to avoid public transport at that time, but the sluggish economic activities meant they were unable to pay the high costs. As a result, most buyers turned to the used car market in search of cheaper alternatives.
Along with complications in securing credit, it led to a sudden rise in the demand for used cars. The immediate effect of this escalation in demand is the inevitable increase in used car prices. According to Cap HPI, some areas within the UK have reported a rise of as much as 12%.
Recent Trends in Used Car Prices
The inflation in used car prices finally slowed down in October when the lockdown eased. The manufacturing of new vehicles resumed. Cap HPI reported that they witnessed a 2.1% fall in average used car prices.
Prices of older used city cars and superminis were the most affected by this fall. The costs of city cars fell by 2.9% (£150), and superminis decreased by 2.5% (£200). Less used superminis were more immune to this sudden price contraction since these smaller cars gained popularity in the absence of new vehicles.
C-Segment Cars:
The next most affected category was the C-segment cars. SUVs account for around one-third of all sales volume. Although the drop in their value was slower than other vehicles, it was still notable. Despite this lack of complete immunity, the shrink in the price of large SUVs was minor. Their value only moved down by 0.5% (£150), at a usage span of 3 years.
Car Prices:
We cannot solely attribute this decrease in prices to the increased supply of new cars in the market. It is a typical trend for used car prices to drop in the final quarter of the year due to a fall in demand. Furthermore, since dealers try to fulfil their yearly sales quotas, they are willing to lower costs to attract customers. However, according to Derren Martin, head of valuations UK at Cap HPI, this drop-off was "exacerbated this year by economic uncertainty, high prices, and reasonable predictions that the consumer appetite for used cars that has driven up prices cannot last forever."
Localised Lockdowns:
He further added that the year has been very unpredictable already, and forecasting trends has proven difficult. Localised lockdowns (such as the one in Wales) are affecting predictions and adding to the uncertainty of the current situation, as well as the future.
Richard Walker, Data & Insights Director at Auto Trader, agrees with the standard speculation that used car prices will continue to fall gradually. However, it is highly unlikely that there would be a plunge off a cliff-edge.
Future Trend in Used Car Prices
With 2020 finally coming to an end, many car dealers, as well as buyers, are more and more concerned about what future trends in the used car market will look like. Several customers are availing free car valuation services or performing a car history check in anticipation of a further increase in prices. However, as predicted by experts, used car prices are not going up any time soon again.
FCA:
Back in April, the Financial Conduct Authority (FCA) introduced a ban on the repossession of vehicles by finance companies. They did this in the hope of protecting the people affected adversely by the coronavirus pandemic.
Second Lockdown:
This initial ban ended in October, but a new ban came by in early November as the second lockdown began. The updated ban prevents repossession until 31 January, but this only prohibits the final act of recovering the vehicle. Thus, it allows finance companies to ready collections in the meantime.
The lifting of this ban will immediately increase the supply of used cars in the first quarter of 2021. Thereby reducing their value.
PCP financed vehicles and those on similar packages will be the ones most affected by the six-month backlog of repossession cases that this ban will cause.
The deteriorating economic conditions will, undoubtedly, lead to further repossessions that won't be a part of this initial backlog. Consequently, the case of oversupply of second-hand cars will only worsen, further lowering the value of these cars.
FLA:
Fortunately, according to the head of motor finance at the Finance and Leasing Association (FLA), Adrian Dally, the influx of these vehicles into the market will be gradual rather than instantaneous. Which will hopefully bode for better prices.
Remarketing specialists state that while the issue is real, it is not likely to affect the value of used cars negatively. In the words of the managing director of car auction group Aston Barclay, Martin Potter, "There will be some extra volume, but I'm not concerned about what it does in the remarketing arena because generally, that sort of termination stock is often right in the sweet spot of exactly what everybody wants."
Potter further speculated that finance companies will struggle with storage capacities and are asking logistics firms to prepare appropriate storage space.
But he did say that consumer default rates were a lot better than their expectations. And 10-15% of the defaulters were now becoming regular payers.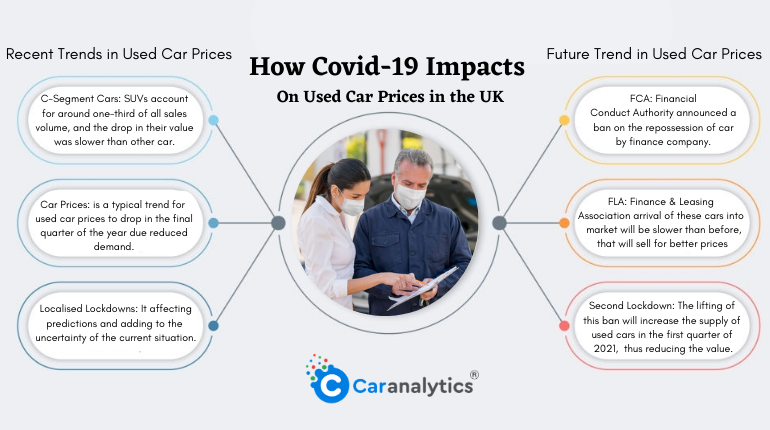 Summary:
Used car prices have been escalating gradually since the start of the pandemic. The reasons for this sudden and unexpected increase were simple enough to understand. The production of new cars had slowed down due to lockdown restrictions, leading to an upsurge in their prices.
Therefore, the used car market became attractive to vehicle buyers who wanted to avoid using public transportation, and this sudden increase in demand led to higher prices. Amidst this upturn in prices, many car owners turned to companies offering reg check or car history check to evaluate and sell their cars off. Much to their dismay, this inflation in used vehicle prices slowed down in October.
According to experts, the value of pre-owned vehicles will continue to decrease. The fall back might get further exacerbated with the influx of repossessed cars, which will happen around early 2021. All in all, it is proving difficult to predict future trends accurately since there is already so much uncertainty in the used cars industry.
Do you have a doubt about how we work? Come check how others feel about our service. Don't forget to follow us on Facebook, Instagram, LinkedIn, Pinterest, Twitter, and YouTube for the latest information and offers.