In March, the start of initial lock down used car prices have gradually raised. Early reports suggested a lack of demand because most people had to stay at home.
However, used car dealers soon began reporting a surge in sales.Rising used car prices are simple to explain because they are a classic case of "supply vs demand." Because of car manufacturers' lockdown restrictions, the supply of new cars has slowed, causing prices to rise. Most people wanted to avoid public transportation at the time, but due to the slowing economy, they couldn't afford the high costs. As a result, the majority of buyers turned to the used car market in search of less expensive alternatives.
Recent Trends in Used Car Prices
According to SMMT report on Q2 2020,
UK used car transactions increased 108.6% to 2,167,504 units.
April saw 307.4% growth, which was followed by the best May and June since records began.
The popularity of used plug-in vehicles increased 351.4 percent in Q2, despite accounting for only 1.3% of the used car market.
According to the Society of Motor Manufacturers and Traders (SMMT), the UK used car market grew 108.6% in the second quarter of 2021. 2,167,504 vehicles changed hands, up 6.6% from pre-pandemic 2019 levels, the best Q2 performance and nearly the best quarter ever for the used car market. The increase reflects the gradual reopening of businesses, increased demand for personal mobility, and stock shortages in the new vehicle market forcing some consumers to buy used vehicles.

As compared to last year, when the economy was nearly at a standstill, the used car industry saw the best growth in April, up 307,4% over 2020 with 724,743 transactions, and up 5.0% over pre-pandemic 2019. Q2, 2021 saw growth in all months, with May and June up 9.9% and 4.6% on 2019, respectively, the best results for both months ever.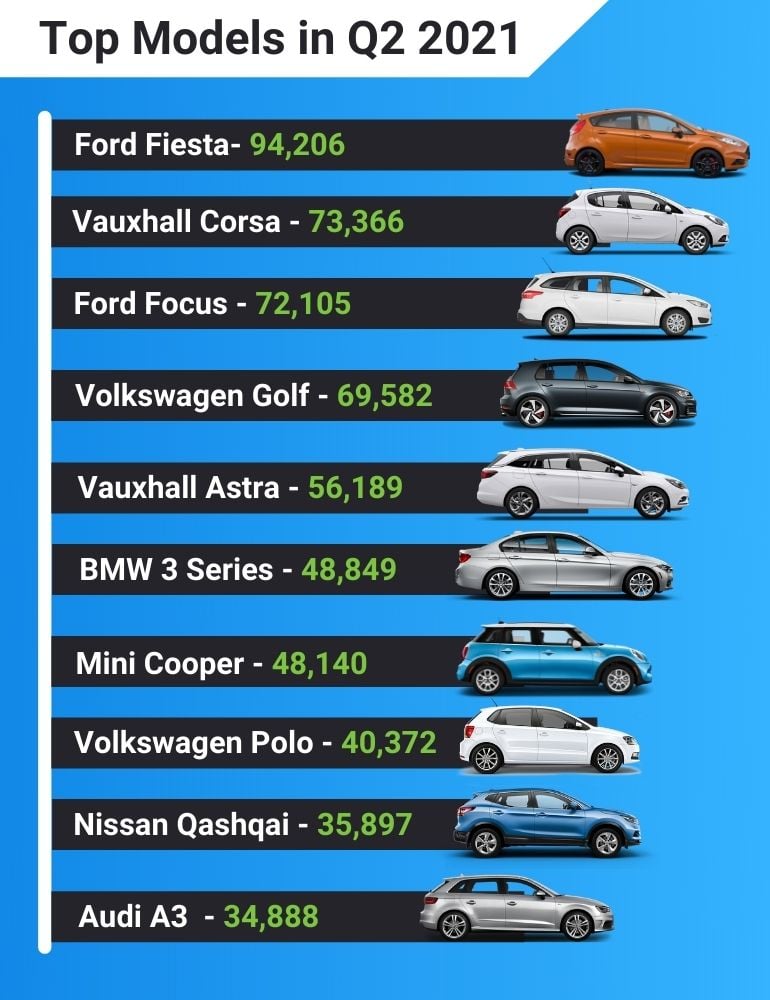 At 2,090,396 units, gasoline and diesel powertrains made up 96.4% of the quarter's used car market. In addition, an increase in demand overall has resulted in an increase in older used car sales, with only 12.7% of all vehicles sold being three years old or less, the lowest on record.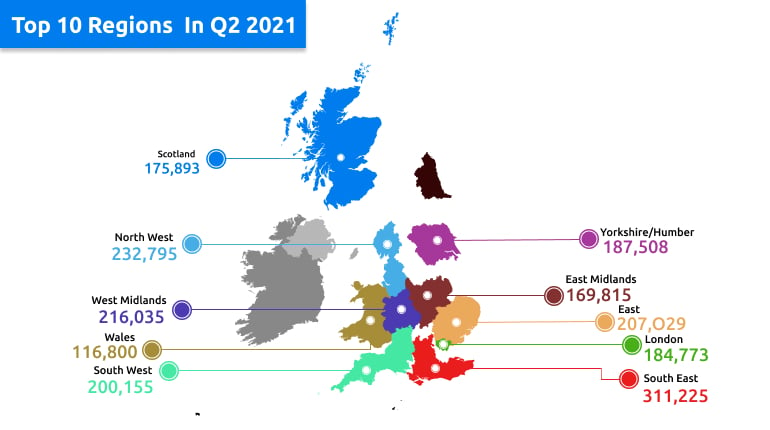 Dual purpose saw the greatest increase in Q2, up 147.7%, pushing their market share to 13.5%, still behind the superminis (31.9% share) and lower medium segments (27.0%). With over 461,000 transactions, black was the top choice, followed by silver/aluminum and blue, with the top three accounting for more than half of sales (54.8%).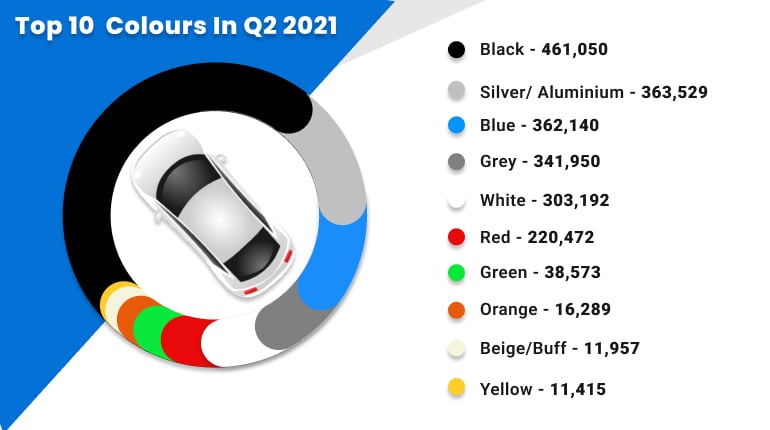 Second Lockdown

This initial ban ended in October, but a new ban came by in early November as the second lockdown began. The updated ban prevents repossession until 31 January, but this only prohibits the final act of recovering the vehicle. Thus, it allows finance companies to ready collections in the meantime.
The lifting of this ban will immediately increase the supply of used cars in the first quarter of 2021. Thereby reducing their value.
PCP financed vehicles and those on similar packages will be the ones most affected by the six-month backlog of repossession cases that this ban will cause.
The deteriorating economic conditions will, undoubtedly, lead to further repossessions that won't be a part of this initial backlog. Consequently, the case of oversupply of second-hand cars will only worsen, further lowering the value of these cars.
Recommended Reading: Things to Inspect When Buying a Used Luxury Car
Summary
Used car prices have been escalating gradually since the start of the pandemic. The reasons for this sudden and unexpected increase were simple enough to understand. The production of new cars had slowed down due to lockdown restrictions, leading to an upsurge in their prices.

Therefore, the used car market became attractive to vehicle buyers who wanted to avoid using public transportation. And this sudden increase in demand led to higher prices. Amidst this upturn in prices, many car owners turned to companies offering vehicle history check to evaluate and sell their cars off. Much to their dismay, this inflation in used vehicle prices slowed down in October.
According to experts, the value of preowned vehicles will continue to decrease. The fall back might get further exacerbated with the influx of repossessed cars, which will happen around early 2021. All in all, it is proving difficult to predict future trends accurately since there is already so much uncertainty in the used cars industry.