A study states that grey colour car is retaining its position as Britain's favourite colour for new cars followed by black and white.
SMMT sources, 24.3% of new cars were grey.
61.6% of registered cars were painted monochrome.
For used cars, black is in the top position with 461,050 sales.
Second, Blue is a popular colour with 17% of buyers preferred to buy, which was picked up by nearly 5% in 2019. At the same time, car colours like orange, green, and yellow have been picked frequently.
Let's look at complete stats of the UK's most popular car colour sales in 2021.
Why Car colour matter while buying a car?
There is nothing more appealing than a shiny car painted in your favourite colour. Today, you can choose virtually any colour.
According to some, your choice of colour reflects your driving habits and your psyche. Some theorists believe that excellent, detached and calm drivers own silver cars.
Buying a used or new car is an exciting endeavour for most of us. While you do a lot of research for finding the best car in your price range, the decision of the car's colour is often overlooked and made on the spot when you're at the dealership for the actual purchase.
Top 10 used car colours in 2021
Among UK used car buyers, black is the most popular colour. From April to June of 2021, below, we sourced the used car buyer's favourite colours as per SMMT.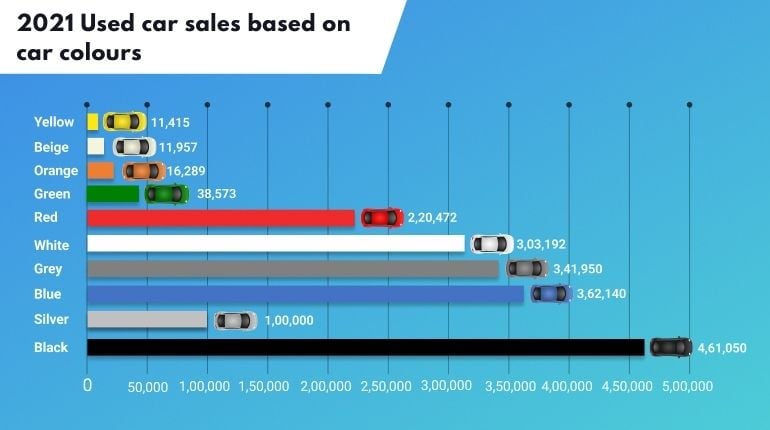 A total of 54.8% of all used cars sold during this period were in the first three colours. Grey is the most popular colour for petrol and diesel cars, but it's always white or black for elective vehicle buyers. Leicestershire was popular with 23.7% of pink colour registered cars during 2020. Most orange cars are registered in West Midlands.
These are some of the reasons why the British have preferred black, silver, grey or white since 2000.
Impact of car colours
Would you purchase a used car in a bright colour? If so, you're in the minority.
Grey, black, and silver cars are standard because they are easier to sell, as more people are likely to want them. The vehicle may lose less in depreciation, although it is difficult to prove. You spend long hours deciding all the features you want in your next car, but selecting your vehicle's colour is subconsciously left out from your priority list.
Is your vehicle's painted so irrelevant in determining your vehicle's value? And if it is insignificant, why do people in the car colour business put so much energy and effort into predicting the latest car colour choices trends?
There are some theories about the impact of a car's colour, let's talk about them:


Car colour availability
Many cars come with only a limited selection of paint colours, and we can only buy a car from the manufacturer of the colour offers. Many of those are black, silver, grey or white, or variations of these colours, especially if you buy a German car.


Smart appearance
It's important to remember that several new cars are destined for the fleet market, which will be used as company cars. Many company-car users consider their vehicles to be an extension of their business attire, so it's no surprise that many are painted in subdued colours. Private buyers prefer grey, black, white, and silver vehicles because they are fashionable.


Resale Value
Car paint suppliers survey vehicles' sales every year to determine the best-selling colours and produce more of them to keep up with the market. According to experts, your vehicle's paint can have a significant impact on its resale value.
Buying the trending colour in your car today might help you sell it at a better price whenever it's time for you to change.
On the other hand, it is more difficult to find a customer for a less popular colour, and you may have to let it go for a lesser price. However, there are no hard and fast rules; the trends are different in every region.


Effect on Temperature
There are also some myths about car colours with little to no evidence to support them. One of these myths maintains that a dark coloured car will have a heated cabin. This myth is of particular interest to the Gulf States residents, who face extreme temperatures in summers.
While it is true that darker colours absorb more heat from their environment, the advanced automotive paint finishes and insulating materials used by automakers these days do not let the colour of your car affect its internal temperature. So, the concept of a black car being hotter is more psychological than factual.


Probability of Accidents
Another common myth says that red cars are more prone to accidents and ticketing than other colours. This myth also has no factual base; Police issue tickets on flawed driving only, regardless of what paint your vehicle is. Similarly, accidents occur due to poor driving choices in most cases. There is no accident data available to back this myth.
Some people claim they have trouble noticing grey cars on the road, making grey vehicles more accident-prone. If there were some reality to this claim, a red car would never end up in an accident, as it is easily visible to other drivers on the road.
However, we cannot deny the effect of colours on the human mood.
So, a car's shade might play a small role in accidents. But there are so many other factors involved in accidents that it is impossible to imply specific car paint causes more of them.


Conclusion
When it comes to colours, people have diverse personal preferences. A vehicle's resale is one of the buyer's main things when deciding which new cars to buy. So, those who are fretting about the resale value of the vehicle they are buying should consider the colour options before making the purchase. It will give you enough time to decide on one, preferably the best seller.
Moreover, to know the actual colour of the car you purchase, run a free car history check with us. You can identify the vehicle's colour change history from our basic vehicle check (also called registration check). It reveals the colour change history and the details on the number of previous owners, plate change history, scrapped status, etc.