The SMMT has released figures of Britain's most popular car colour with the grey dominating the list. According to the study, out of the 1.63 million new cars sold in the UK last year, 397,197 (24.3%) sported grey paint followed by black (19.9%), and white (17.4%). Elsewhere, the most popular car colour 2020 list gives a familiar sense, with Blue takes the fourth spot. Subsequently, we have red, silver, orange, green – in the opposite order to 2019 – yellow and bronze.
Out of all new cars sold last year, we saw the biggest change in red painted vehicles. UK buyers only bought 147,222 red vehicles in 2020, in contrast to over 200,000 each year since 1997. On the other hand, Yellow improved its market share by 50%.
Correlation Between Fuel Type and Colour
Another interesting fact we have seen in the SMMT report is a connection between a vehicle's fuel type and colour. While the grey caught the eyes of ICE (Internal Combustion Engine) vehicle buyers, the EV shoppers fancied the colour white. Furthermore, the plug-in hybrid lovers preferred mostly black paint.
On the whole, grey prevailed country-wide, even in Scotland and the Channel Islands, which kicked the craze in 2019. Alternatively, the Isle of Wight and Strathclyde favoured blue and white car colour, respectively.
Interestingly, pink could not register itself in the top 10 most popular car colours list. However, people loved it in Leicestershire, where 23.7% of all new cars sold in the UK were wearing this colour. Similarly, Orange colour got the highest fame in the West Midlands. Of the 106 different paints recorded during 2020, maroon got the least support.
If we talk about the highest popularity of non-monochrome shade, it happened in 1999, when new cars buyers preferred Blue. Since the start of the 21st century, buyers favoured silver paint for eight successive years, before black, white and grey started to compete for the top position every year.
Excitingly, the most famous grey vehicle is also among the top sellers largely, the Volkswagen Golf. On the other hand, the Mercedes-Benz A-class got approval from buyers loving it in white and black. Blue received fame mostly on the Ford Fiesta, while red and orange had the most liking with the Vauxhall Corsa. Buyers of Mini mostly approved silver and green colour.
Why is the Colour of Your Car Important?
Buying used or new car is an exciting endeavour for most of us. While you do a lot of research for finding the best car in your price range, the decision of the car's colour is often overlooked and made on the spot when you're at the dealership for the actual purchase. You spend long hours deciding all the features you want in your next car, but selecting your vehicle's colour is subconsciously left out from your priority list. Is your vehicle's paint so irrelevant in determining your vehicle's value? And if it is insignificant, why do people in car colour business put so much energy and effort into predicting the latest trends in car colour choices?
There are some theories about the impact of a car's colour, let's talk about them:
Resale Value:
Car paint suppliers survey vehicles' sales every year to determine the best-selling colours and produce more of them to keep up with the market. According to experts, your vehicle's paint can have a significant impact on its resale value. Buying the trending colour in your car today might help you sell it at a better price whenever it's time for you to change. On the other hand, it is more difficult to find a customer for a less popular colour, and you may have to let it go for a lesser price. However, there are no hard and fast rules; the trends are different in every region. And we have so many other factors that affect a car's value, such as these.
Effect on Temperature:
There are also some myths about car colours with little to no evidence to support them. One of these myths maintains that a dark coloured car will have a heated cabin. This myth is of particular interest to the Gulf States residents, who have to face extreme temperatures in summers. While it is true that darker colours absorb more heat from their environment, the advanced automotive paint finishes and insulating materials used by automakers these days do not let the colour of your car affect its internal temperature. So, the concept of a black car being hotter is more psychological than factual.
Probability of Accidents:
Another common myth says that red cars are more prone to accidents and ticketing than other colours. This myth also has no factual base; Police issue tickets on flawed driving only, regardless of what paint your vehicle is. Similarly, accidents occur due to poor driving choices in most cases. There is no accident data available to back this myth.
Some people claim they have trouble noticing grey cars on the road, making grey vehicles more accident-prone. If there were some reality to this claim, a red car would never end up in an accident, as it is easily visible to other drivers on the road.
However, we cannot deny the effect of colours on the human mood. So, there might be a small role a car's shade plays in accidents. But there are so many other factors involved in accidents that it is impossible to imply a certain car paint causes more of them. Before buying, if you like to know its accident history, we advise you to read this piece of information.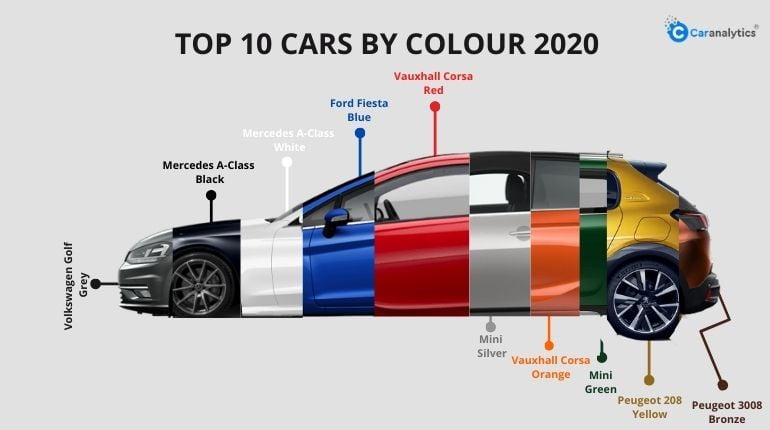 Conclusion
When it comes to colours, people have diverse personal preferences. A vehicle's resale is one of the main thing's buyers consider when deciding which new cars to buy. So, for those who are fretting about the resale value of the vehicle they are buying, they should consider the colour options before making the purchase. It will give you enough time to decide on one, preferably the bestseller. Moreover, to know the actual colour of the car you are purchasing, you should take our free car history check. However, to identify the vehicle's paint change history, you need to take our basic vehicle check (also called registration check). It reveals the paint change history and the details on the number of previous owners, plate change history, scrapped status, etc.
You should look for the best-selling colour in your area and consider it seriously. Your vehicle's paint says a lot about your personality, so choose the shade that best represents you.
Summary
Article Name
Most Popular Car Colour 2020 | New Cars | Vehicle Check
Description
Those looking to buy new cars this year must give serious consideration to Britain's most popular car colour & this post tells, the most popular car colour in 2020.
Author
Publisher Name
Publisher Logo