Selling your car fast and that too at a good price is a little tricky. While you want to sell your car quickly, you do not like to get a price below your vehicle's actual value. I usually sell my car online because it gives me the freedom to negotiate the price and bargain on my terms. However, when it comes to the fastest route to sell my car UK, I present several options. I will list down the most famous ones down below (we also wrote a detailed blog on it, check that too) and leave it to you to decide which one suits you the best.
There are primarily three ways I use to sell a used car.
Dealership (outright sale or as a trade-in)
Private sale on my own
Selling to a car buying service
Dealership:
Whenever I want to sell my car fast, I mostly contact a dealership. However, I want to warn you that this will certainly not give you the best price. Whether you go for direct sale or part-exchange, you will not be able to secure a good price unless the dealership genuinely wants to buy your particular vehicle. They are a money-making business, and they will not purchase your car if they could not make a good enough profit from the sale.
Private Sale:
I sold my car through a private sale last time. While I managed to get the best possible price for it, it took me a long time to find the right car shopper. Not to mention, it was extremely frustrating to wait, show my car to the potential buyers, and do the haggling.
If you are ready to take this route, I suggest you post an ad on Desperate Seller (CarAnalytics' Partner site), Auto Trader, or any other channel you believe can help you sell your vehicle. Talking about Auto Trader, it gets millions of visits every month. To secure a private sale fast, you might have to purchase an advertisement package. While it will help you put your ad on the first page, you will face stiff competition from the dealers selling vehicles on Auto Trader.
I recommend you to explore eBay, Gumtree, and Desperate Seller. The latter lists the most popular models in the UK manufactured by BMW, Audi, Volkswagen, and others. So, you can post your ad at Desperate Seller to increase your chances of securing a private deal.
We Buy Your Car Services
Whenever I want to sell my car for cash, I take help from car-buying sites. These platforms are excellent to deal with your car fast; however, you have to sacrifice a little on the final price. The popularity of We Buy Your Car sites has increased over the last decade. The reason for this fame is the simplicity of the process.
Although every car-buying platform has its own rules and processes, most of them ask you to use their car valuation online tool. You need to provide your car's mileage, service history details, condition, and some other info to get an instant offer from online buyers, car buying websites, scrap purchasers, and specialized vehicle dealers across the UK. You should pick the one that best suits you, and the buyer will arrange a collection or drop-off appointment. After the final inspection, you get the money in your bank account.
However, bear in mind that after the car inspection, you may not get the price that the buyer quoted to you initially. The reason is the quoted price is according to the 'showroom' condition. While the final price bases on the actual condition at the time of evaluation.
If you think it is the best way forward, we recommend you Motorway, our partner offering the best car deals at fair prices. The platform allows you to analyze sales from 1,500+ vehicle buyers encompassing instant car purchasers and numerous private dealers.
What is the impact of the pandemic on the used car market of the United Kingdom?
While most people thought the COVID-19 lockdown would cause the UK used car market to crash completely in 2020, it did not happen. Yes, sales plunged when the UK government imposed the lockdown, but they started picking up in July.
With people trying to avoid public transport and have not been able to buy new cars, the used vehicles are now in high demand. Another interesting fact is people turning to purchase their unique set of wheels from dealerships and car-buying sites. Especially those responding to the pandemic very well. I mean those taking care of deep cleaning and sanitization measures.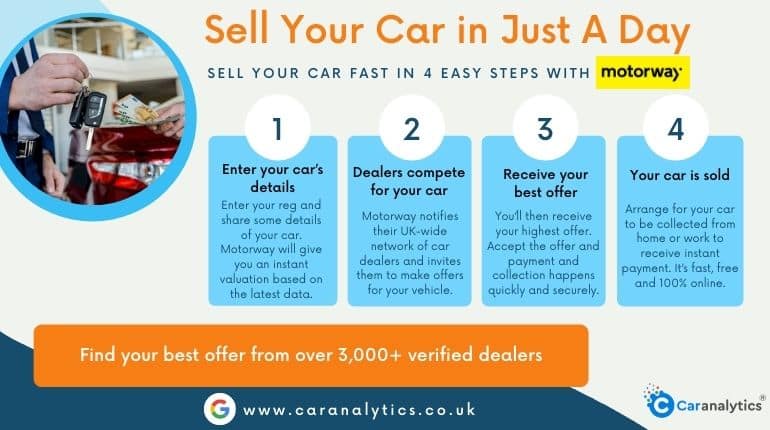 Your Car is likely Worth better Than You Think!
Yes, the best way to sell a car for high cash was private sales, but not in the pandemic.
As more and more buyers are turning to dealerships and car buying websites, they have a hard time keeping up with the demand. Consequently, these car trade platforms are offering better prices than what we get from them in normal circumstances.
Also, due to the reduced income from losing jobs and people having to travel less owing to working from home, they are less likely to sell their vehicles. Therefore, the car-buying services and dealers may pay you more than what you would get through a private sale.
Final Words on the Fastest Way to Sell Your Car
During the pandemic, if I have to sell my car fast, I'd prefer to sell to a car buying service. They give you instant offers from a range of buyers, and there is a very low risk of payment issues. The only problem could be the possibility of receiving a very low price for a vehicle.
However, with CarAnalytics, you even do not have to worry about it. Our partner Motorway presents you with offers from 1500+ instant buyers and specialist dealers.