All we need is to sell a used vehicle at a reasonable price, which simply takes a few minutes. Although everyone's buying preferences varies, when selling a car, know what amazing discounts you may sign up for, and let's talk about what those great bargains are.
Which is the best place to sell a car for best price?
Selling your car online would be the best way to find a local buyer. You can find the reliable and profitable process from
Auto trader
eBay motors
Car gurus
The ultimate aim is to get a valid resale price without any scam. So, most of the sellers try to choose an easier way. Also, you can't deny that buying a vehicle online turns out to be a scam. And most of the buyers become a victim. However, the advice is to choose your reputable seller only after researching yourself.
So, you can find the genuine price rate for the vehicle after car valuation. Hence, no worries about the reliability!
Sell a Car privately
Most of the sellers would get tired of the tough way to reach the buyers, and also placing the ad for a car for sale privately depends on your priority and preference.
When you plan to sell your car privately, then ensure you keep following these metrics:
Prepare your vehicle descriptions in an honest way without hiding the details.
Keep the proof of ownership as it is evident you're the vehicle's legally owned person.
Ensure you deal with the buyers in a prompt way.
Don't miss or delay during test drives or other discussions.
Make sure you receive the payments secure & safe.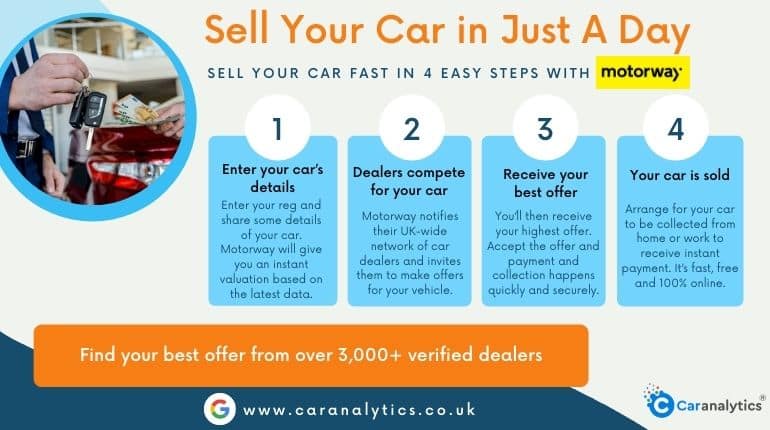 Part-exchange with a dealer
It is among the most common methods of selling a second-hand vehicle. Yes, a dealer will accept the car in exchange for a new one. If you opt to go with part-exchange, you must either pay the difference in cash or finance the new vehicle.
The issue with part exchanges is that they are cost-effective. Typically, traders benefit more on part exchanges. As a result, we suggested getting a new vehicle from a dealer!
Selling a car to a dealer
If you found a reliable car dealer near your region, better first do have a look at rather than go for other options. There are franchised dealers offering a good rate for the specific brand, and the same does not go with the other vehicle brands. Dealers try to profit from it while you have to be ready with the negotiations. It doesn't mean all the traders trick the purchase; however, you have to ensure the vehicle has no such issues.
Selling a car for scrap
If your car is in an unhealthy condition, and you can say it is illegal to drive on the UK roads, you can decide it for scrap. However, it depends on the car's condition; if the vehicle is old or fails its MOT test, scrapping is the final option. There are plenty of websites for scrapping a car like scrap car comparison, scrap local, scrap car compare.
Still, do you need to know the current market value of your car? Use our vehicle valuation service, which costs you £2, to know what exactly your car sells on the market based on the estimated mileage.
Also Read: How to check what category is your car?
What should you carry while selling your old car?
Logbook
Once you decide to sell a car, the vehicle registration document is the most crucial part of the paperwork. Many sellers try to sell the car without, but it indicates a dodgy seller. Fill out the section 6 form and send it to the DVLA for changing the ownership. Easy way!
Is it okay to sell a car without registration papers or title?
No, you can't sell a car without the proper evidence. The title tells you the legal ownership of the vehicle, and it is required to get your car on the road.
Secondly, you can't transfer the ownership to someone without the registration papers.
Service history
How do you confirm the vehicle is maintained well? You can say, test drive!
However, it is also one of the essential factors to tell the vehicle's condition, and there are chances where you might fail to notice.
Hence, it is better to have the full-service history of your vehicle.
Pros
• Having the service history are that you can increase your car's resale value. So, buyers can identify how well the vehicle is maintained.
• Ensure you have a service book with all details like name, address, and date of the car servicing. Also, keeps the printed copy in case of digital records.
MOT certificates
The second verification metric is the MOT certificate, which proves that the vehicle is roadworthy and whether it is meeting its environmental standards. Nowadays, MOT certificates can find through online, but you can make it reliable by showing evidence of your old MOT certificates while negotiating with the buyer.
In case of lose or damage your MOT certificates, before selling the car, apply for the new replacement logbook online; it costs you £10.
Insurance
Remember! Inform to your insurer that you're planning to sell your car. So that the car insurance can be cancelled and you're no longer charged for it.
You need to show the buyers in case of any insurance claims for severe damage or any serious replacements. It helps buyers to decide the vehicle worthiness to drive on the roads.

From this, you can create your own checklist before moving your car to the garage to have a safe & secure deal.