In 2022 the UK government will expand the Ultra-low emission zone as much as possible. Understand the standards and application methods of ULEZ. A handy guide to ensure your vehicle does meet the ULEZ complaint.
What is ULEZ, and how it helps to control air pollution?
First of all, ULEZ is not a restriction for drivers. The United Kingdom government addresses the importance of air quality in central London. The area coverage has been increased due to high toxic gases from vehicles and improving London residents' health. The UK government should reduce carbon emissions by 80% before 2025. Ultra-Low Emission Zone is an area that minimizes the usage of high air polluting specification cars, motorcycles, mopeds, HGV's, lorries, buses, minibuses, vans, coaches, and types of diesel-fueled vehicles. In simple words, if your vehicle doesn't meet the emission standard, you should pay a daily charge along with the London congestion charge. The zone operates 24 hours a day and all days throughout the year except for Christmas.
The main reason for expanding ULEZ is to reduce harmful Nitrogen dioxide by approximately 30% across London.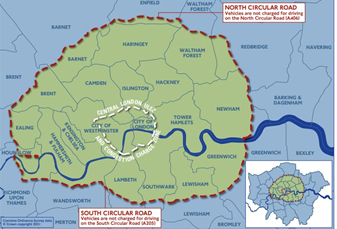 Euro Emission Standards implementation timeline
| | |
| --- | --- |
| Emission Standard |  Year of Implementation |
| Euro 1 | January 1993 |
| Euro 2 | January 1997 |
| Euro 3 |  January 2001 |
| Euro 4 | January 2006 |
| Euro 5 | January 2011 |
| Euro 6 | September 2015 |
| Euro 6D-Temp | September 2019 |
| Euro 6D | January 2021 |
What are the emission standards followed?
Vehicle Type

Emission Standard

Daily Charges (If your vehicle doesn't meet the standard)

Penalties & Notes

Cars

Petrol: Euro 4

Diesel: Euro 6

£12.50

Penalty charge: £160 (reduced to £80 if paid within 14 days)

Vans, minibuses and more

Petrol: Euro 4

Diesel: Euro 6

£12.50

Penalty charge: £160 (reduced to £80 if paid within 14 days)

Motorcycles

Mopeds

Motorised tricycles

Quadricycles (L category)

Euro 3 emissions standards for NOx.

£12.50

Daily ULEZ charge: £12.50

Penalty charge: £160 (reduced to £80 if paid within 14 days)
How do I know if my car is ULEZ exempt?
Heavy polluting petrol and diesel type cars are getting affected. Petrol car engines that are compliant with Euro 4 emission standard, which was introduced in 2006, will get exempt from the ULEZ charge.
Is it possible to switch our cars to Euro 6?
Of course, it is possible by retrofitting our car to meet the Euro 6 emission standard. We listed the below considerations before you start retrofitting your vehicle.
Space: We need extra space to install the exhaust system. Usually, it will be a stainless steel box and sometimes can mount into the muffler 
Payload: In some cases, it leads to a fixed penalty notice if your vehicle is caught for overweight.
Cost: Retrofitting cost is high.
ULEZ checker
From September 2018, The Euro emission standard of your car can be found on the V5C document that tells you the emissions rating for your car. If you don't have a logbook then, it's worth doing a vehicle-specific check. The better way to check the car emission standard of your car is exempt from the ULEZ charges is to simply enter its registration number (number plate) into the ULEZ vehicle checker gov website or run a euro status check from us. 
Possibilities to escape from London's ULEZ Charge.

Buy a petrol-fueled used car which meets the emission standard Euro 4. After September 2015 manufactured cars will definitely meet Euro 6.
Buy diesel car sold since September 2015. The UK government is legally obliged to conform to Euro 6 emission standards.
Investing in the classic car gives you exemption from ULEZ charges. But, it should be built before 40 years. That means Pre-1979 cars with a historic tax class.
Electric cars will help you in this case because electric cars produce zero exhaust emissions.
Make sure your vehicle is registered with a disabled tax class offered by the UK government, if applicable.
Is ULEZ expanding in 2022?
Exactly Yes, This ULEZ will be expanded in 2022. The ULEZ has exceeded its original central London location, now extending to the North and South Circular Roads as of October 25th, 2021. This is a massive increase from the original 8 miles, covering almost 140 square miles.
How to pay the ULEZ charge?
Set up Auto Pay (£10 annual registration charge per vehicle). Already have Auto Pay? Then you don't need to do anything. The other way is to pay online through the TFL app available for both Android and iOS platforms.