So, you have been searching through the online classified ads and found the car of your dreams after conducting proper research. The next step is to visit the dealership or the private seller to get a close look and probably take it for a test drive. But wait? Do you know everything about the vehicle you are going to buy? It could have a nasty past being in an accident, stolen, have outstanding finance, or any other anomaly. The question is how would you know about all such details and more before your purchase? The answer is the HPI Check. Before we talk about the worth of the HPI Checks, let's first know about this free vehicle check history report.
What is an HPI Check? 
An HPI Check is a registered trademark of the company named HPI Ltd. Founded in 1938 by the six major players in the financial business, it was aimed to curb the growing numbers of auto frauds in the United Kingdom. With time, they expanded the service and became an industry leader in Vehicle History Checks. However, HPI Check is not the sole vehicle history check service in the UK. There are many other companies including CarAnalytics (CA) that offer the most comprehensive vehicle checks. The good thing about the other checks is that they are as accurate as HPI Checks and are more affordable, as well. In fact, CA Checks are available at just £9.95, which is less than half the price of the HPI Check (£19.99). So, why pay more?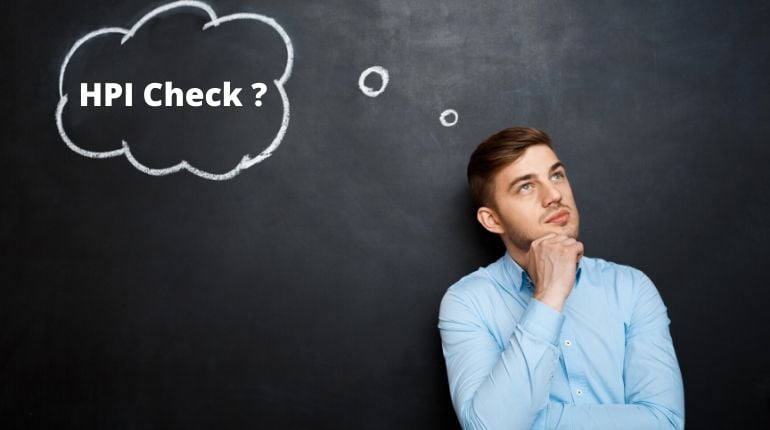 Difference Between HPI Check and Our Check Service
Car Analytics gets its data from the same sources the HPI Ltd. uses to create their reports. Yes, we request data from the DVLA, the Police National Database (PND), MIAFTR, and some other firms, and pay them for their services. It means there is virtually no difference between the HPI check and our car history check. In fact, we provide more data and our own internal reports show a remarkable accuracy of over 99.9%.
What's Included in the Vehicle Check?
Either you opt for HPI or our Car Analytics Check, the report will contain the following and more:
Vehicle Identity Information (make, model, door plan, vehicle's current colour & prior colour, transmission, engine size, ownership transfer)
Plate Transfer Details
Outstanding Finance
Mileage Accuracy
Stolen Car Check
Written-off or Total Loss Declaration
Clocking Check
Import & Export Data
Full Tax and MOT History
High-Risk Check
Scrapped Status
Is it Worth Getting an HPI Check?
The answer depends on your comfort level. If you believe an HPI Check is similar to any other reliable vehicle check service, so saving £11 will not be a bad decision. Is it? On the other hand, if you are really fond of the catch-all industry term, HPI, then the HPI Check is totally worth it. The decision is yours.
Some dealers offer a vehicle check report as part of the deal, so getting it with your purchase isn't a bad investment. However, you must know if that's a genuine check report or not. We suggest you carry out your own free vehicle check from a reliable and affordable source rather than relying on the dealer. The same is true in case you are buying from a private seller. In fact, it has more significance in this case because you are not backed by any warranty, which you usually get from a dealer.