Car performance is one of the most crucial aspects for buyers these days. Either you love to floor the pedal for an adrenaline pump or want extra power to conquer different terrains, the urge for more power never ends. And when it comes to overall performance, we always look into the car's Horsepower (HP) or Brake Horsepower (BHP), which is the amount of power an engine can generate. To find the horsepower rating of a vehicle, you can check the owner manual or take our car bhp check.
How Was Horsepower Metric Invented?
A horsepower is a unit introduced by engineer James Watt who calculated that "an average horse could do 33,000 foot-pounds of work per minute." While his formula was not related to cars by any means because they were not present during his time, there was not any better unit to measure power when engines were invented.
Generally, the more HP a vehicle produces, the better it accelerates, which is a robust aspect of its typical performance. However, many other factors contribute to a vehicle's performance, as well. We will not go into detail about that because that is not our point of concern right now.
What is the Difference Between HP and BHP?
There is a very slight difference between these terms; the 'Brake Horsepower' (BHP) considers power loss due to friction while the 'HP' does not. It means the BHP is slightly less than the HP because it is calculated after the mill feds to the working parts like a turbocharger, water pump/ alternator, gearbox, and drivetrain. The auto companies calculate BHP by forcing the engine to full revs and then allowing to decelerate it to a dead end.
What BHP is My Car?
Unquestionably, a car's BHP is a decisive factor in determining its health and performance figures. Therefore, we strongly advise taking our instant BHP check. Yes, it is 'Instant,' and more importantly, it is 'Free.' It is part of our free car check report. Just give your car's registration number, and we will tell you the bhp it generates.
Is it Enough to Check My BHP to Know its Overall Performance?
No, it is not. Apart from performing reg check BHP, you also need to know the car's torque, its body type, its aerodynamics, weight, etc., to determine its overall performance. Our free car BHP check does not only give you details on BHP, but you also get to know it's Make, Model, Fuel Type, number of Gears, Engine size, power Kw, power rpm, top speed, and torque. You can read more about the car, engine, and its performance on the internet to understand how good it drives in the city, on the highway and if it is capable of conquering the off-road trails. All this information will make it trouble-free for you to decide if the vehicle you are considering suits your lifestyle and needs.
Conclusion:
We suggest you first check vehicle BHP at Car Analytics' for any car you are interested in. Read car reviews to find more about its engine performance, tech, safety features, and price. Perform as many car bhp checks as you want until you find your dream car. These are free, and they are quick. Get your car bhp check today!
Make sure that you are following us on social media. We have Facebook, Linked In, Youtube, Instagram, Twitter and Pinterest. Car Analytics will post all our latest deals and offers there.
Summary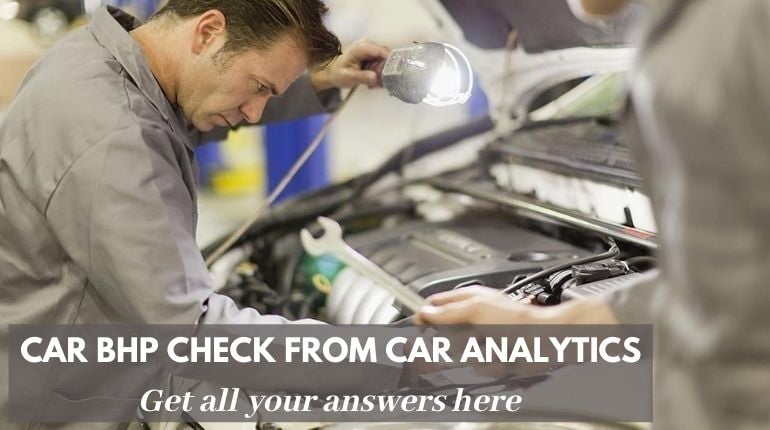 Article Name
Get Car BHP Check for Free Right Away
Description
Get a free car bhp check at Car Analytics. It will not only give you an accurate brake horsepower figure but also its MOT history, and performance data.
Publisher Name
Publisher Logo