Car owners in the UK change their number plates for various reasons. Most people do it to have a more personalised number, while unscrupulous folks do it to conceal a vehicle's identity. Therefore, it is always wise to run a car reg check to uncover the history of plate change and double-check it with the seller. While a free reg check provides you with the necessary info about a vehicle, the number plate check is part of a premium service.
Do not worry; it does not cost you a fortune. In these tough economic times, CarAnalytics is offering the plate change check for just £1.99.
In case you find a plate change, which the seller did not describe to you, you have every reason to be suspicious. It is better to walk away from the deal or run the registration check on the previous plate number. We will be able to identify all the outstanding problems with the old plate. Find out what other ways a car reg check can benefit you.
Can you check who owns a car?
There is no way you can check online who owns a car. Every car reg checker in the UK only identifies the number of keepers a vehicle has had. Our car registration check is no different. We tell you the total number of keepers and when did they register with the Driver and Vehicle Licensing Agency (DVLA).
Even if you contact the DVLA to know the name of the owner/keeper, you have to have a reasonable cause to convince them. You can request the DVLA here.
So, how to find out who owns a car? We have answered this question in this blog. In case you are interested in knowing the current keeper's name, you better see the V5C document.
Check the status of your vehicle registration
You can check the status of your vehicle either on the DVLA site or by taking our free reg check. The information you will receive from both sources will be more or less the same. While we fetch essential vehicle data directly from the DVLA, we also use third-party tools and sites. Through various means, our free reg check provides you with additional data such as complete MOT history.
Search Private and Personalised Number Plates
In Great Britain, you can search and buy a private (personalised) number plate from DVLA Personalised Registrations or a private dealer or person. The DVLA organises auctions across the country five times a year, where you can bid in person, by phone, in writing, or online.
Once you have bought a number plate, you will receive a V750 certificate of entitlement. It attests that you are eligible to put the number on a vehicle ('assign' it).
In case you buy the personalised plate number from a private dealer or person, you can either ask the dealer to assign the new number to your vehicle, or you can do it yourself by getting the V750 or V778. Remember doing it yourself as a registered keeper, you need to make the application via the DVLA's website or by writing to them.
Vehicle Licence Expiry Date Enquiry
You could know the expiry date of your vehicle licence by checking section 4b on the photocard. Alternatively, you can view or share your driving licence information online. You must have the following details to initiate your search:
your driving licence number
the postcode on your driving licence
Please bear in mind; you can take the online route if you have a licence from England, Wales, or Scotland. Never try to get someone else's personal information without their consent. You should never drive your vehicle with an expired licence.
Please also note that if your licence expires between 1 February 2020 and 31 December 2020, consider it extended for the next 11 months from the date of expiry. The government has taken this measure due to the coronavirus (COVID-19) pandemic.
How many number plate changes has the car had?
A car can have multiple number plate changes in its lifetime. There could be two primary reasons for a plate change.
You bought a used vehicle, and you have to apply for a new car number plate (because the seller decided to keep the plate).
You want a more personalised plate, or someone has gifted you a new plate number.
To know how many plate changes has a car had, you need only the best vehicle reg check in the UK. Our reg checker service is 100% accurate, awarded by SME Magazine, and backed by a data guarantee. We are confident because we source our data from the DVLA only. With us, there is no chance of discrepancy.
Our reg check informs you if the car has a number plate change in the past. If 'Yes,' we provide you the previous plate number. You can run the registration check on it to find outstanding issues on the old plate. We have witnessed that sellers who want to sell a stolen vehicle usually change the number plate. Therefore, you should always carry out a car registration check before the purchase in the UK.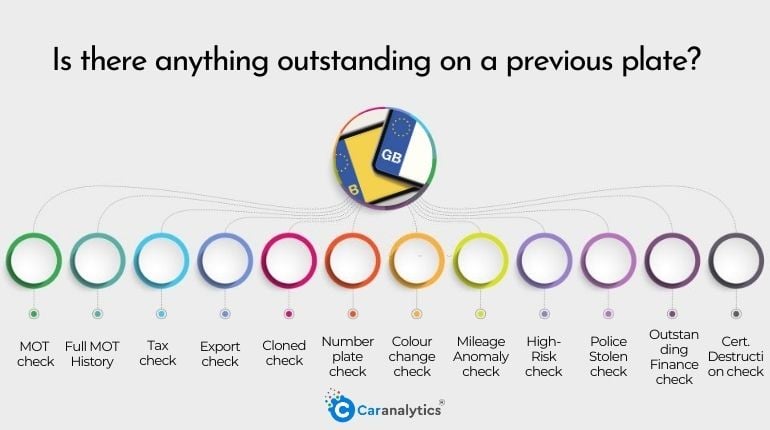 Is there anything outstanding on a previous plate?
While you need need a free reg check to get necessary information about a vehicle, you have to run a full reg check to find out outstanding issues on any plate. Either it is unsettled finance, MOT expiry, insurance validity, or keeper change history, you can uncover these hidden details and much more through our reg check.
Here's a complete list of outstanding issues you can check through our reg checker service.
MOT check
Full MOT History
Tax check
Export check
Cloned check
Number plate check
Colour change check
Mileage Anomaly check
High-Risk check
Police Stolen check
Outstanding Finance check
Cert. Destruction check
Scrapped check