Find the number of owners of a car is vital for both buyers and sellers. A car changing multiple hands in a little span is a risky proposition. It could be due to the possible defects in the vehicle. For sellers, the lesser the number of keepers a vehicle has had, the higher price they can demand from the buyer.
To know the number of previous keepers, you can either check the vehicle's logbook or run our £1.99 Car Keeper's History Check. Our report will highlight the total number of keepers and the dates when the car was registered with the DVLA. It also reveals if the car has ever changed its number plate along with other hidden details. Here is our sample report to find out what information you will receive in our owner check.
Does a VIN number tell you the owner?
The straightforward answer to this question is "No". However, you can find owner of car indirectly if you know VIN (Vehicle Identification Number). How? You can request the vehicle registration number using VIN (we have defined the process here). Once you find the registration number of a car, you could know how many previous owners it had by performing a car owner check.
Please note to find number of owners of a car, you must know its registration number. No service in the UK can tell you the owner of a car by giving its VIN.
Can you check how many owners a car has had?
Of course, you can. You can check this information from the vehicle's logbook or you can use any of the car data check services online. At Car Analytics, the car owner check comes under our basic vehicle data report and costs you just £1.99. You not only discover the number of owners of a car, you can also know about the vehicle's colour change, plate change, scrapped status, VIN, engine number, and car evaluation.
In case you do not have access to the logbook (V5C document) to check owner of car, you can request the DVLA check. We have explained the process in a recent blog post (please go through it here) or you can find more on it at the Gov.uk website. You should understand that to check previous owners names and addresses through the DVLA, there should be a "reasonable cause" behind it.
On the other hand, if you have managed to get a copy of the logbook from the seller, you must be able to identify its legitimacy. Beware of old and fake logbooks; many of them are circulating in the market here. The question is how would you know if a vehicle's logbook is genuine? We have written a detailed guide on this subject, which you can read here.
Does v5c show previous owners?
Yes, it does. The V5C or logbook mentions the current owner's details as well as the info of the previous owner, and that's it. If you are also interested in knowing other owners, you need to contact the DVLA. They may entertain your request if you have a reasonable cause. However, it is highly unlikely to find out about earlier keepers of a car through DVLA. They do not entertain if you tell them you want to buy the car or know if the vehicle was registered to a taxi company.
Our car owner check fetches data directly from the DVLA, so you can be sure the information is 100% accurate. The report will tell you the total number of keepers the car has had, however, you will not know about the current owner registered with the DVLA.
As we said earlier, the current owner's details are only available on the logbook, and there is no such thing as car owner check free. This is a premium service and every Car Data History provider charges for this info.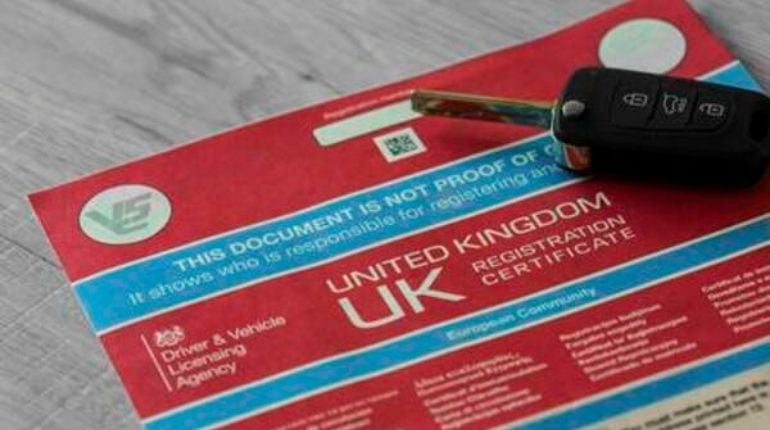 What can a scammer do with a VIN number?
Did you ever think what robbers do to stolen cars? They mostly intend to chop them, sell parts, or smuggle the vehicles, however now they have found a more lucrative way. They change the car's identity through VIN Switching or VIN Cloning. It is a term used to switch the stolen vehicle's VIN with a legitimate car on the road. The scammers then apply for duplicate paperwork and use it for the car they stole.
Therefore, it is crucial to never share your car's VIN with any stranger. And because a passerby can view the VIN from the front of your vehicle's windshield, you should make sure to hide this section.
Now, you understand why our car previous owners check does not display the complete VIN (we only provide the last 5 digits).  
Can you change ownership of a vehicle online DVLA?
Yes, you can! Bear in mind, whenever a car is registered, the DVLA issues a V5C document against it. And when it changes ownership, this V5C should be sent to the DVLA to get the new document.
The good news is the online change of ownership facility has discarded the lengthy paperwork. You just need to fill this form on the DVLA website. Provide the new owner details along with the 11-digit reference number from the vehicle's V5C.
Once you submit the form, you will get an email verifying that your application for a new V5C has been received. If you provide the new owner's email id in the form, they will also get an email confirmation. You should get the new V5C document within five working days. If you do not, you should contact the support team.
Conclusion
How many hands a vehicle has changed is crucial in determining different aspects of its lifecycle. If you want to know how many owners has my car had, take CarAnalytics' car owner history check. We guarantee the authenticity of our data, as we get it directly from the DVLA. Once you receive the info from us, cross-check it with the details on the logbook. Buy your next car, scooter, or van with complete peace of mind!
Have a look on how our customers feel about us and make sure that you are following Car Analytics on social media, we have Facebook, Linked In, Youtube, Instagram, Twitter and Pinterest we will post all our latest deals and offers.  
Summary
Article Name
Find number of owners of a car previously had before buying
Description
Find number of owners of a car through our car owner check. To find owner of a car, you should contact the DVLA. Know about VIN Switching or VIN Cloning.
Author
Publisher Name
Publisher Logo