If you are considering buying a used car in the UK, one of the many things that need your attention is its accidental history. Unfortunately, not every dealer and private seller is honest about his or her vehicle. The question is, how you would know if the vehicle you like has been involved in an accident? You can use two ways for a car accident check: vehicle inspection and vehicle check.
Car Accident Check Through Vehicle Inspection
Starting from £100 and going as high as £250, a full vehicle inspection service covers everything from body exterior, engine compartment, electrical controls, interior, and luggage compartments, front and rear suspension, front and rear underframes, steering, clutch, transmission, exhaust system, fuel system, brakes, wheels, and tries. The check may also include a road test, a complete summary of engineer recommendations and findings, and vehicle photos displaying the main flaws. With the full diagnostic and report of the vehicle, it will not be hard to mention the parts, which have sustained damage in an accident.
Also Read: Vehicle Check Vs Vehicle Inspection
Car Accident Check Through Vehicle Check
Starting from £9.95 (Car Analytics) and going as high as £19.99 (HPI Check), a car data check clearly states if a car has been written-off by an insurance firm. An insurance company writes-off a vehicle if they deem it badly damaged or when the cost of repair exceeds the value of the vehicle. Depending on the severity of the damage, they assign the write-off a category including Cat A (scrap only), Cat B (break for parts), Cat C (structurally damaged but repairable), and Cat N (Not structurally damaged, repairable).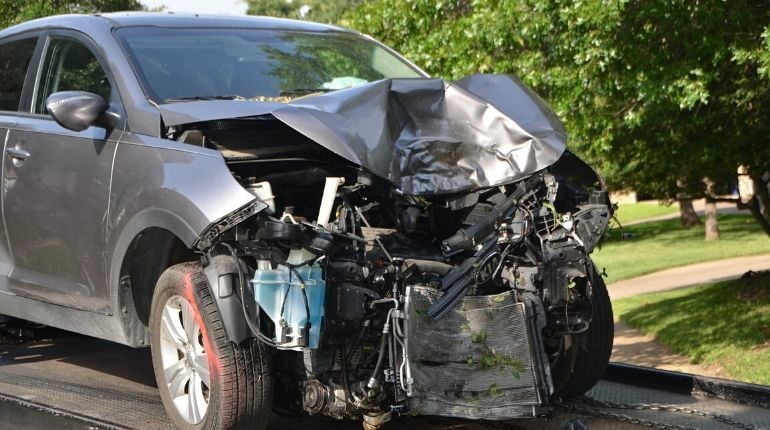 To understand your car accident check, we need to go into details of these categories.
Category A
A Category A write-off means the car has been completely damaged during an accident. You can neither repair nor sell it for parts. The insurers call for crushing or scrapping of such cars. An example of a Category A vehicle is a car fully burnt in a fire.
Category B
A Category B write-off means the car is so badly damaged that the repairs are not possible. However, the owner can sell certain parts. After he removes salvageable parts, the car has to be scrapped.
Category S
A structurally broken car comes under Category S. It includes damage to the chassis, the crumple zone, or any other important part. You can fix a Cat S vehicle and drive it on the UK roads.
Category N
A Category N write-off means the car is structurally fit but has sustained non-structural flaws that could compromise its safety. These normally include brake and steering issues that can make the car unsafe on the road. Similar to Cat 'S' car, you can repair a Cat N vehicle and get permission to drive it legally on the UK roads.
Now you understand the different write-off categories, you can make up your mind if it is safe to go for a Cat S or Cat N vehicle or not. Of course, you can negotiate the price down for written-off cars, but you must understand the vehicle had been in an accident and issues can arise at any time if the vehicle was not professionally repaired.
Read More: Cat n and Cat s write off category explained

Will a Car Accident Check Always Show if The Vehicle Has Been in An Accident?
The straightforward answer is 'No'. A car data check can only reveal what a particular insurance firm declares about a car. Most previous car owners do not report an accident to the insurer and make repairs privately. Therefore, the incident does not register with MIAFTR. It is illegal but, unfortunately, is a common occurrence here. The only way around this is a manual vehicle inspection.
Make sure that you are following Car Analytics on social media, we have Facebook, Linked In, Youtube, Instagram, Twitter and Pinterest we will post all our latest deals and offers.