6
minutes
A vehicle spec check is the first step to determine how you want your car. It gives you short descriptions of essential vehicle details, which are kept for display in a car dealership. But, if you buy a vehicle online or need to confirm the vehicle details, a car spec check service is required.
When purchasing a vehicle, it's important to know the technical specifications and features of the vehicle you're interested in. With all this data, you can make an informed choice and determine if a car fits you. In this article, we'll delve into the details of a car spec check and why it's an essential tool for car buyers. Don't forget that free VPN for Chrome service can provide an extra layer of security and privacy when researching vehicle specifications and histories online, open cross-border shopping options, and help you to save on renting a car when traveling.
What is a car spec check?
A car spec check is an online data report that reveals the specs of the vehicle. It includes vehicle make, model, fuel consumption, BHP power, performance, speed figures, road tax status, vehicle financial and environmental details and estimated running cost. Our vehicle spec check assists you in knowing the car and seeing if it is what you need.
A free car spec check by reg that lets you to see specs for any car by just entering its registration. After inputting the vehicle registration, you can access the report instantly.
A vehicle spec check is a handy tool for making an informed buying decision. For instance, the running cost per annum tells What budget you should set for the vehicle annually. Similarly, if you aim to buy a fuel-efficient car, you can rely on the economic details in the specification check.
How to check car spec by reg number?
Check car spec by reg number through government or third-party websites. These services often provide basic information such as make, model, year of manufacture, engine size, fuel type, CO2 emissions, and sometimes even more detailed data like MOT history or tax status. You can usually find these services on official government websites related to transportation or vehicle registration or through third-party platforms specializing in vehicle data checks.
What information does the free report include?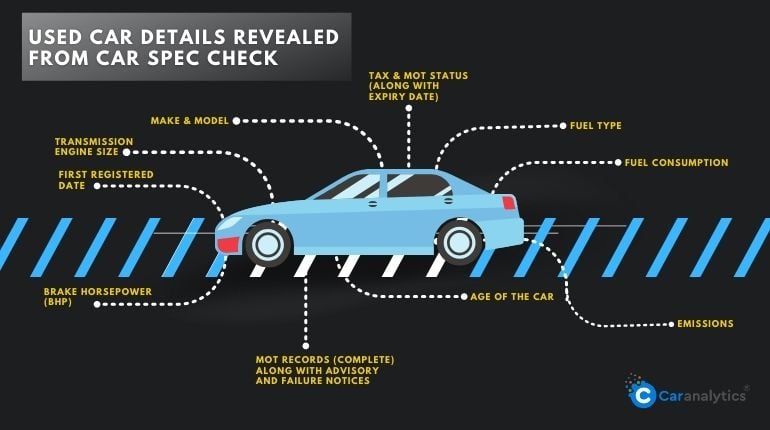 A free vehicle specification check report from different providers may render different details. We source data from the DVLA, DVSA, and VCA to provide you with a comprehensive report. As we fetch data from varied government sources, our free vehicle history check report offers more details than you would learn through a single source. Here's a classification of what our free car spec report contains.
DVLA: Imported, exported, scrapped, unscrapped, colour changes, plate changes, V5C issue date, etc. For a complete list of DVLA's bulk data set, click here.
DVSA: Past and present MOT test data with MOT passes, failures, and advisory notices; and mileage history recorded during MOT tests.
VCA: CO2 Emissions and Fuel Economy Data, and Vehicle Safety Branch Recalls Data.
You can either query the DVLA database here or our car spec finder. Both reports have almost the same information; however, with us, you will receive more insights into your vehicle, such as the vehicle running cost, mileage history, and performance data. The latter includes BHP check, top speed, power rpm, torque, etc.
All the data we provide will come in handy in making an informed car-buying decision. For example, a car's performance data tells how much power it can generate and how fast it can go. A vehicle with just a 110 km/h maximum speed will not be suitable if you drive on a UK motorway daily.
Check your car's specs easily with our online car spec checker:
If you have an online car spec checker that you would like to use, here are the general steps you can follow to check your car's specs:
On your computer or mobile device, launch a web browser.

Visit the website that provides the online car spec checker tool. You can search for "online car spec checker" on a search engine to find various options.

Look for a search or input field where you can enter your car's details. This may include information such as the make, model, year, and possibly the vehicle identification number (VIN) of your car.

Enter the required details accurately. If you have the VIN, it's recommended to enter it as it can provide more accurate and comprehensive information.

Once you've entered the necessary information, click on the "Search" or "Check" button or any other similar action that prompts the tool to retrieve the car's specs.

The online car spec checker will process the information and display the specifications of your car. This may include engine specifications, horsepower, torque, transmission type, fuel efficiency, dimensions, weight, available features, and more.

Review the displayed specifications to get the desired information about your car. Some tools may provide additional information like optional packages, trim levels, or technical diagrams.
Please be aware that the precise processes may change based on the specific online car spec checker tool you are using. Observe the guidelines on the page for the most accurate results.
What information can you get from the vehicle registration document?
It is a fact that checking the logbook while buying is a mandatory task. It is because there are basic details registered from there, you can easily confirm the details acquired online. The information obtained from the registration document is as follows,
Personal Details (Name & Address)

Logbook Serial number

Vehicle Identification Number (VIN)

Vehicle details and specifications.

Changes in the vehicle like colour, chassis or body shell (replaced or modified)

Changes in Body type

Chassis Number
There are chances where the seller intentionally tries to sell the car with the fake logbook or excuses the logbook is sent for a DVLA update. So, the buyer must check if the logbook is genuine to have a hassle-free purchase.
Tip of the Topic: In case the serial number is between BG8229501 to BG9999030 or BI2305501 to BI2800000, then the V5C might be stolen. So, you should contact the police when you can, or you can check in gov. uk.
What is GCC and how do I find it?
First, you must comprehend what a GCC spec car is. A GCC (Gulf Cooperation Council) specification vehicle means the car is built for a Gulf state keeping in view its environment, weather, and driving conditions.
A GCC spec car may have a different powertrain, AC, filtration system, radiator, and corrosion protection compared to the UK spec car. The reason is the extreme heat, rough terrains, and dusty and sandy conditions in the Gulf.
You cannot find the specs of a GCC car in the UK unless it has a DVLA registration.
How to perform a car spec check?
Performing a car spec check is simple and online and only needs a few minutes to finish. Enter the make and model alone of the car you're interested in, and you'll receive a comprehensive report on its technical specifications and features. You can also access a vehicle history report to learn about the car's history, including any accidents or repairs that have been made.
How is the car specs check tool used?
Enter your registration number above to start the process of checking the specs of your car. You will be able to examine and view all of the pertinent data on our page as a result. You may use a variety of facts from our automobile spec database to help you make well-informed decisions about your vehicle. Everything you need to know is available, from basic car information and fuel economy statistics to performance numbers and measurements. Our spec sheets include all the information you need, whether you're wondering how far your vehicle will go on a single tank of petrol or what its top speed is.
Conclusion
In conclusion, a car spec check is an essential tool for car buyers. To check car specs by VIN, you can gain a better understanding of a vehicle's technical specifications and features and determine if it's the right fit for your needs. While purchasing, performing a car reg check is wise to ensure you have all the essential details about the vehicle's history.
Answering Your Questions
Can I get my car specs by reg plate?
Yes, you can. It has a simple and straight answer. Feed your number plate and get your car specification details instantly.
Can I check my car specs by VIN?
The answer is you cannot check a vehicle's specification by providing its VIN because no car history website is designed to give you information through VIN. A car's data is saved against its number plate or registration number. Therefore, you will need the vehicle registration number to find out its specs.
When should your car's registration certificate be updated?
You have to update the logbook when there are changes in Name, Address, and Any changes in vehicle specifications.
How can I make a new application if I lost my V5C?
Without a Logbook, It is tough to tax your car or sell your vehicle. But DVLA made it simple. You can claim a logbook replacement for £25 through the DVLA website or 0300 790 6802.
How much is road tax cost in the UK?
The first year of road tax: The first year of road tax is based on a car's carbon dioxide emissions and is included in the on-the-road (OTR) pricing. It ranges from £0 for zero-emission cars to £2,245 for models that emit 255g/km or more.


The annual road tax rate: The annual flat rate of road tax is £155 (up from £150 in the 2020/2021 financial year). There's a £10 annual discount for alternatively fueled vehicles (hybrids, mild hybrids and plug-in hybrids), so their owners pay £145 a year (up from £140 in the last financial year).