In a country where people are in love with luxury and advanced vehicles, a tendency to opt for new and used cars is much higher than the other countries. It is evident from the fact that by the end of March 2020, we had 38.3 million licenced vehicles in Great Britain. And as the current lockdown eased in the UK, we witnessed strong buying and selling trend of used cars. If you are someone who also wants to buy and sell used cars in the United Kingdom, we have some very useful information for you to make an informed decision. 
How to Buy and Sell Used Cars
Buying a Used Car
Look To Buy A Vehicle that Retains Its Value 
A car that holds its value will help you sell it at a reasonable price later on. While buying from a famous brand cloth may not always be advantageous for you, it definitely has its perks when you buy a car. Therefore, it is wise to buy a popular used car. While doing so, you should consider a colour that is favourite among the British, as well. Grey, Black, White, and Blue are most famous in the United Kingdom.
Which Marques And Cars Are Popular In The UK?
While saying this may seem like a cliché but "majority is authority." A market survey about the hottest cars is usually a good idea to find great deals. After all, popular vehicles are well-liked for a reason, so why not check them out. The chances are that what you are looking for is the same as several other people. The best-selling marques in the UK include Ford, Volkswagen, Mercedes-Benz, BMW, and so on. You can check the list of best brands as per their sales in 2019 here. As far as the cars are concerned, the Ford Fiesta is the best-seller with 21,098 registrations followed by the Ford Focus (18,145), and the Volkswagen Golf (17,889).
When Should You Buy A Car?
Summer (July-August) is probably the best time to get yourself a used car here because the dealers are desperate to clear off the previous models (making space for new models) and usually offer significant cuts. Obviously, it is not compulsory to wait for summer if you want a car urgently, but it is a good idea to save some pounds. Christmas and New Year are also excellent times because there are special offers on literally everything. Also, shop a four-wheel drive in Summer; their demand in autumn and winter is high. Similarly, purchase a convertible in Winter and an SUV before the start of Autumn. 
From Where Should You Buy A Car?
Lastly, make sure you know whom you are buying your vehicle from. If you are buying from someone who has imported cars, make sure they are not stolen, and the dealer is certified to sell the vehicle. Get our reg check; it will highlight whether the car is stolen. Moreover, you will get to know if the car has outstanding finance, was involved in an accident, is a victim of mileage anomaly, or has a fake number plate, etc. For complete peace of mind and to save up to £2,000, we highly recommend you buy a car at CarAnalytics. We have partnered with Desperate Sellers offering the most lucrative deals on used cars.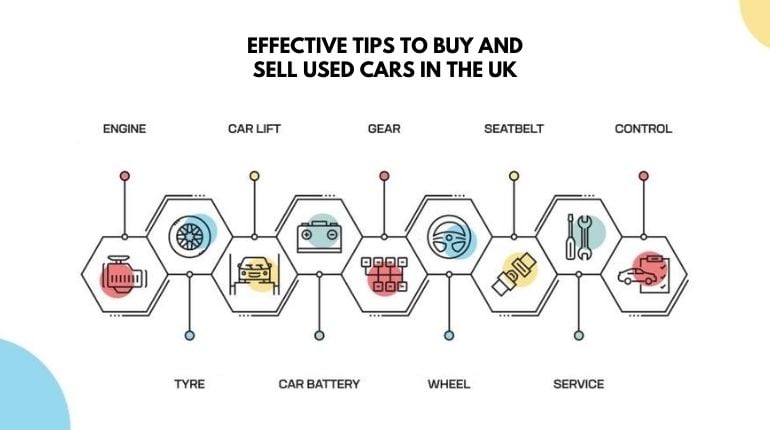 Selling a Used Car in the UK
What Is The Best Way To Sell a Car?
There are mainly four ways to sell cars in London, Manchester, Birmingham, and other cities in the UK. Sell car to a dealer (franchise or independent), privately, use an online car buying site or our partner site Motorway to get up to £1,000 more, or sell car at an auction site, live auction or online auction. You might get a higher price selling it directly without taking the assistance of an intermediary. Dealers give you a lower price because they need to get the car ready before they can sell it of themselves. That said, selling your car on your own gives you a lot of hassle, including constant calls from buyers and dealers, several of whom will waste your time. It also involves dealing with the transfer deed and contracts all on your own. To save yourself from this hassle, sell car at CarAnalytics, as we give you the power to choose instant buyers.
How Can You Get The Best Possible Price?  
It is a good idea to get your car serviced, polished and cleaned up before putting it up for sale. A lousy engine, a car with dents, or a dirty interior will not attract many buyers. While cleaning up your car may cost you a little money, the profit in the sale will be worth it. If you are putting up a picture online, make sure you take a good photo. It is wise to take your photo somewhere scenic; it will enhance the image of your car. Moreover, write the car description correctly and highlight any perks or upgrades your vehicle has. 
Conclusion
Although it may appear that you will find difficult to buy and sell used cars in Great Britain, it is straightforward if you use our buy and sell used cars service. One thing you need to keep in mind is to be vigilant of fraud. And that is only possible after performing a CarAnalytic's car check. We offer the cheapest car Number Plate Check service in the UK at just £8.95. This price is nothing compared to thousands of pounds you will lose if you buy a car that is stolen, written off, or has outstanding finance on it.