Just as cars, bike crimes are also rampant in the UK. We hear about motorcycle theft all the time. No place is safe; either you park it in your garage or just leave at a petrol forecourt to pay the cashier, mobsters can pinch a motorcycle in just about 20 seconds. With around 40,000 motorbike robberies a year in England and Wales, chances are high that the motorcycle you are going to buy is stolen. So, how you can avoid buying a stolen bike? The answer is a Free Bike Check. 
The Bike Checker is a motorbike history check, same as a car history check. It informs you if the motorcycle you are buying is stolen, accidentally comes with standing finance, or any other hidden history. 
Here at CarAnalytics, we offer free bike check, as well as the best motorbike HPI check alternative on any UK, registered motorcycle, or scooter.  
How to Check if a Motorbike is Recorded as Stolen?
Before we tell you how you can pinpoint a stolen bike, you should understand the risk involved. Same as with cars, if you buy a stolen motorbike, Police will repossess the bike from you, and you cannot have a refund. There is a very small cushion for you if you have bought it from a private seller. However, if you have purchased from a registered dealership in London, Leeds, Manchester, or any other city, you have some rights. That said, pursuing the dealership could be a big hassle, a waste of your time and finances.
Therefore, it is wise to buy a motorcycle only after careful evaluation. Would you like to waste thousands of pounds on a bike when you can get our full motorcycle data to check for just £8.95?
How to get an Instant Bike History Lookup?
For an instant and free bike information, you can use our free bike check service. We just need your bike reg number to give you an instant report. Please understand that our motorcycle stolen check is not free because we have to pay to get this information. However, there is a lot of data you would not want to miss in our free bike checker service (details are available ahead). 
 How to Check if a Used Bike is Accidental or not?
According to statistics provided by the UK government, "there was a total of 153,315 casualties of all severities in reported road traffic accidents in 2019." It shows how frequent are motorbike accidents in the UK. With this number in mind, the likelihood of buying an accidental motorcycle is very high.
While there are some telltale signs that reveal the accidental history of a motorbike, not everyone is equipped with pertinent knowledge. A few indications include:
Shaky Wheels
Bent or Extorted Front Forks
Bent or Jagged Handlebars
Damaged or Scratched Gas Tank
Bent Frame
Big Crank Case Scrapes
Damaged or Broken Plastic or Fiberglass Covers
An Odd Feeling During Riding the Bike
You can get into the details of these aspects here, or you can perform a bike accident or write-off check. Similar to the car write-off check, this test reveals if a bike has been involved in an accident and is written-off by the insurance firm.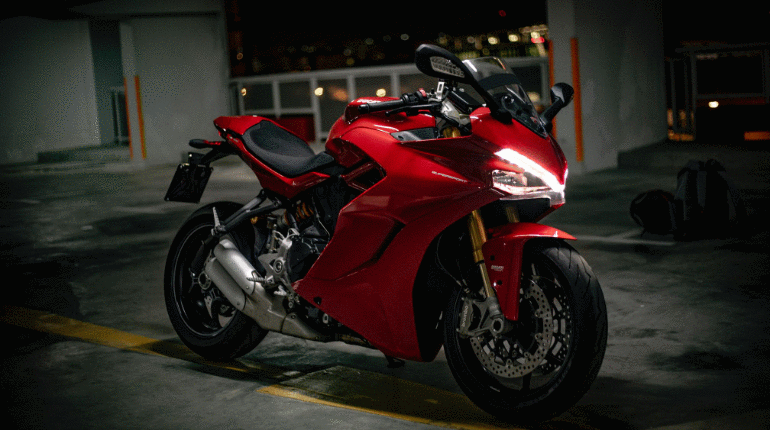 Do Motorcycles have the same Written-Off Categories as for cars?
Yes! Similar to cars, when an insurer writes off a motorbike, it assigns a Category to it. You can get category details here along with the advice of whether it is a good idea to buy an accidental bike (the content is for cars, but it completely relates to motorcycles as well) or not. Just remember that you should never buy a Category A or Category B motorbike. However, you can approach a Cat S or Cat N motorbike deal with caution. 
Free Bike Checker – Do you offer a Free Motorbike History Check?
Yes, we do. Our free motorbike check includes:
MOT status and MOT due date
Motorcycle tax status
Motorcycle registration date and age
Recorded mileage at the time of the last MOT examination
Motorcycle Make, Model, Colour, no of gears and engine size
Import and Export Status of the bike
Annual estimated motorcycle running cost (based on fuel cost, tax rate, and MOT rate)
Motorcycle's fuel consumption and CO2 emission figures
Motorbike's performance data (Top speed, Power RPM, Power BHP, Power KW, and Torque).
Full motorcycle MOT history comprising advisory and failure notes
As you can see, this auto-check does not encompass accidental and stolen bike details. Therefore, a comprehensive motorbike HPI check is what you need to find out:
Previous keepers
Number plate change history
Colour change history
Scrapped status
Outstanding finance
Insurance write-off (accident status)
Stolen status
And mileage anomaly among other things 
Conclusion
To make sure you buy a non-accidental and genuine motorbike, you should perform a full bike data check on it. With us, it just costs £8.95 (including VAT), and all the data is 100% accurate. Our more than 2,400 customer reviews on reviews.co.uk show how satisfied are our customers.
Make sure that you are following Car Analytics on social media, we have Facebook, LinkedIn, Youtube, Instagram, Twitter and Pinterest we will post all our latest deals and offers.