Did you know? According to the recent survey, Tesla model 3 came in second place on the list of the UK's best selling cars in 2021.
In the market, you may find whatever sort of used car you want. Prices for second hand cars originally fell during the first lockdown, but then rose when the restriction was lifted. Let us explain why used vehicles are the best alternative right now before we answer which one is the best
According to Derren Martin, head of valuations UK at Cap HPI, "This drop-off was exacerbated this year by economic uncertainty, high prices, and reasonable predictions that the consumer appetite for used cars that has driven up prices cannot last forever."
If we considered the data of the Society of Motor Manufacturers and Traders (SMMT) for best-selling vehicles in 2020, the Ford Fiesta topped the list.
For instance, Auto Express has picked winners in different vehicle categories as per its criteria. Check their list of best cars here. The Society of Manufacturers and Traders (SMMT) have revealed the top sellers for 2020.
The Ford Fiesta maintains its position as the best-selling vehicle in the United Kingdom, despite intense competition. The super mini sold over 50,000 units last year, putting it ahead of the Vauxhall Corsa in second position.
Despite an eighth-generation Golf hitting showroom, Volkswagen did not do better than third.
Top 10 most-used vehicles in 2020 and 2021
Reliability, depreciation, and safety are the three primary factors that make a vehicle the best in its class.
All set to buy a used car? Visit here.
The vehicle's long-term reliability, depreciation, and safety have picked the best from nine major automotive genres alongside a runner-up. On the safety front, their minimum standard was an average NHTSA rating of at least 4 out of 5.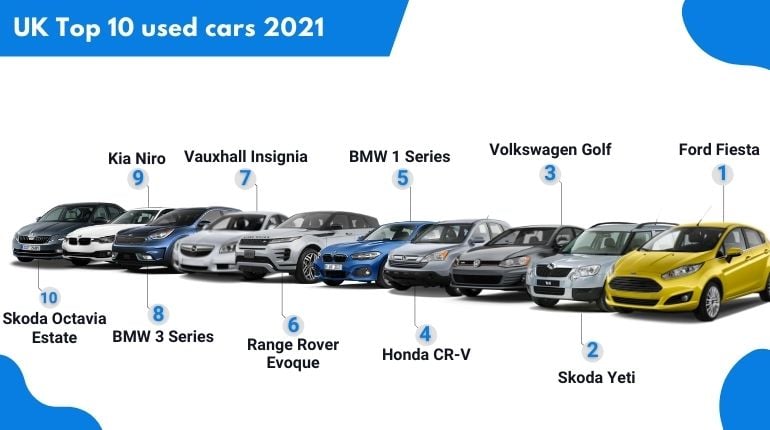 Explanations behind the rise in used car price
We all understand the demand and supply rule: the same case applies to second-hand vehicles. However, we need to see why used car prices went up in the current situation. Here are some of the reasons:
Production of new vehicles slowed down with auto manufacturing units closed across the world.
Concerns with using public transport like trains and buses.
Demand for additional vehicles.
New drivers, mostly young, ditched the ride-hailing services and started learning to drive and buy used vehicles.
Wrapped up
There are a wide variety of ways to be duped when purchasing a used vehicle. Your investment will be wasted if you aren't careful when evaluating your car. We have plenty of points covered for you to make sure you're getting a good deal on that used car before you buy it. Know the used car buying checklist here. You should perform some basic tests.