A high-mileage vehicle can drive as good as a new car if you maintain it properly throughout its lifetime. However, the chances of breakdown with high mileage cars are great. Before we tell you at what mileage do cars start facing problems, we need to know what we consider high cars mileage and how to get a car mileage check.
We deem vehicles clocking 100,000 or more miles on the odometer as high mileage vehicles. An average car mileage per year is around 10,000 to 15,000 miles. If you doubt the mileage reading on the odometer is incorrect, you can clear your suspicion by taking a cars mileage check.
What is ethical mileage for a used car?
The ethical mileage of a used car depends on the make, model, and the year it manufactured. Typically, a vehicle clocks 12,000 miles yearly on average, so it means five-year-old vehicles with 60K miles on the odometer are low mileage cars. Anything above the average comes under high mileage and may pose the following issues.
Transmission failure occurs on about 100,000 miles.
Require a new battery
Need new brake pads
Need a fresh pair of tires
Fuel pump failure that usually occurs when you regularly drive on a low tank of gas
Water pump failure, which typically occurs between 60,000 to 90,000 miles
Timing belt change close to 60,000 miles
High-mileage oil replacement is likely mandatory after a specific interval.
How accurate are car mileage monitors?
Because a car's mileage depends on a lot of factors like weather, road condition, frequency of spotlight, and mostly on your driving behaviour, we can never be able to estimate accurate mileage of any vehicle. However, we can rely on a car mileage monitor to get real-time feedback.
Conversely, if you are in the market to buy the most economical SUV, you should gauge the accuracy of its mileage. The best way to do that is to run a car mileage check at Car Analytics.

Clocking is frequent in the used car market, so you must do your research to pick the best mileage car. For a free car mileage check DVLA, you can run our free car check. However, to identify mileage anomaly, you should perform our car mileage check.
How to make a high mileage car last longer?
With automakers building more reliable and safer cars, maintaining a high-mileage has never been this easier. However, you have to keep in mind the following things:
Fix any issues instantly– Do not overlook any warning sign on the instrument cluster. A high-mileage car will not even be able to sustain any minor issue. Visit your mechanic immediately if you notice a warning sign. We even suggest you hit the workshop when you feel, see, or hear anything weird.
Select high-quality spare parts- Cheap parts may save you some money, but they are mostly not worth the money saved. They can never be as reliable as the OEM parts. If you want your high-mileage car to last longer, always install OEM parts in it.
Never ignore the owner's maintenance manual– Your owner's manual tells you when you should change engine oil/ other fluids, the tire pressure you need to maintain, and so on. Keeping a close eye on the maintenance of your vehicle will save you from heavy repair bills.
Keep it clean– A clean car can last a lot longer than a dirty car, which can become a victim of corrosion easily. Living in the UK and driving in the rain and snow require regular cleaning of the vehicle.
Drive gently– The better you care for your high-mileage vehicle, the longer it will live. Avoid quick acceleration, sharp turns, and potholes. Your car will respond to your gentleness the same way.
What is the average mileage of a car per year?
It depends on where you live and is a crucial factor in determining insurance premiums, maintenance costs, and car finance/leasing. For instance, according to the US Department of Transportation Federal Highway Administration (FHWA), Americans drive 13,476 miles every year. According to the National Travel Survey, the average mileage of a car is around 8,000 to 10,000 miles per year. In 2019, the average mileage was about 7,400.
Knowing the miles, you drive before opting for car finance, or car leasing decides your monthly payments and mileage allowances. So, you should make sure you neither overestimate nor underestimate your mileage.
Can a car's mileage be changed?
While it is legal to change car mileage in the UK, selling the vehicle without telling the buyer is unlawful. However, people still clock the odometer and sell their cars without informing the buyers. Car clocking is on the rise for the last few years. The simple reason for this is getting a higher price for the vehicle. According to an estimate, if you wipe out 60k miles from a car's odometer, the vehicle's price will increase by £2,000-£4,000.
A survey by Cap HPI tells that one in 16 cars they checked in the past had a mileage discrepancy. It means the chances of you purchasing a clocked car are very high these days. The only way to avoid a clocked vehicle is by taking our car mileage review free or a paid car mileage check.
The car mileage check gov comes free. It fetches data from MOT tests and lists the mileage at the time of inspection. Although this report helps figure out an inconsistency in the mileage of the car, it does not cross-check the number of miles travelled from different sources. To avoid buying a clocked car, we strongly recommend you take a car mileage check UK. Car Analytics only offers mileages of the UK cars; we are also providing car mileage check service in Ireland.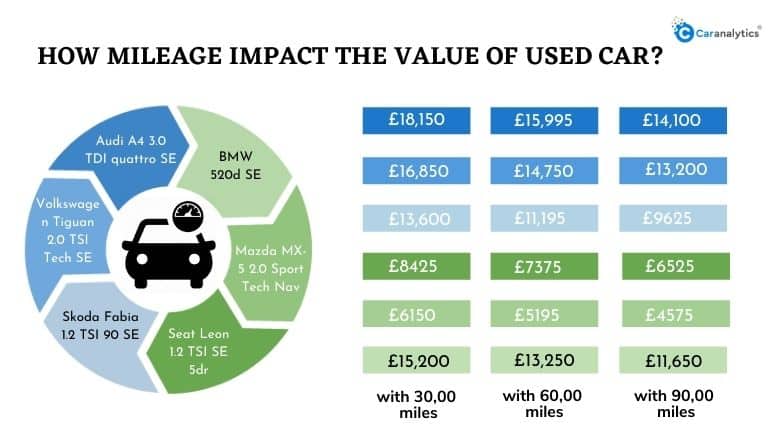 When you rent a car, do you pay for mileage?
When it comes to renting a vehicle, you do pay for mileage. It could be unlimited mileage for a flat charge or a per-mile-driven fee. The unlimited mileage comes with a higher rate and best suited for a cross-country holiday.
On the other hand, you can save some pounds with a per-day mileage cap. What is best for you depends on how many miles you plan to cover daily in the car. For instance, if you intend to clock 150 miles in a day, you can save some pounds a day by selecting a vehicle with a mileage limit.
Do you have any query about the way we work? Check out our reviews and FAQs to clear out all your confusions. For the latest updates and deals, join us on our different social accounts like Facebook, Instagram, LinkedIn, Pinterest, Twitter and YouTube.