Buying a secondhand drive and looking for the best vehicle check in the UK? We know how complicated and confusing it could be to search for a reliable company that conducts genuine car history checks since there are tens of services out there. We understand your situation, so we have compared some best vehicle check services in the UK below that can get you a fine overview regarding what you are getting into.
5 Best Vehicle Check Services in the UK
HPI Check
One of the most renowned names out there for a car history check is the HPI Check. Over the years, due to its reliability in the market, it has earned its way to becoming a generally known vehicle check service. They proudly present two kinds of services namely Basic and Full HPI Check.
Priced at £9.99, the Basic Check reveals if the car had any accidents, outstanding finance, been stolen, written-off and whether it was imported or exported.
However, the Full HPI Check comes with a price of £19.99 and a £30,000 guarantee. Designed especially for people who want to know every detail about a car, this package contains a deep and vast tracking of vehicle records. In short, everything from the birth of a car till the time it attracted your attention is thoroughly tracked. Furthermore, they offer a discount on multiple checks that can be redeemed within 3 years costing £29.97.
Unfortunately, there are no free HPI checks.
| | |
| --- | --- |
| Basic Check £9.99 | Full HPI Check £19.99 |
| Details of accidents, outstanding finance, stolen, written-off, imported or exported | Details of mileage inconsistencies, MoT history, finance agreement, tax, logbook, market valuation, plate change record, CO2 give-offs, write-off |
*Prices and data above, as of 10th June 2020, E&OE
Car Analytics
The cheapest is here! You may doubt the quality when you learn about Caranalytics surprisingly low costs. But fret not! Car Analytics have put cost and reliability above everything. With three amazingly thorough and the best vehicle check packages, they boast the lowest rates in the market.
The first package involves a free vehicle history check for standard record details. The second Basic Check package costs £1.99. It includes the first package services along with Chassis number check, the record of colour and plate changes, etc (full details in the table).
The Full Check costs as low as £8.95 with up to £40,000 guarantee under certain terms, which is the cheapest in the whole UK industry. This package contains all the information offered in the Basic Check, plus details of any outstanding payment, write-off details, etc. Furthermore, subsequent full car checks are offered at just £6.99, which is again a lot cheaper than other services.
| | | |
| --- | --- | --- |
| Free CA Check | Basic CA Check £1.99 | Full CA Check £8.95 |
| MoT history, vehicle age, import/export details, and tax status | Chassis number check, the record of color and plate changes, keeper history, engine number, VIC inspection, and VRM record before registering with DVLA | Outstanding payment, write-off details, Certificate of Destruction, mileage disaccord, police history or any disputes related to the car |
*Prices and data above, as of 10th June 2020, E&OE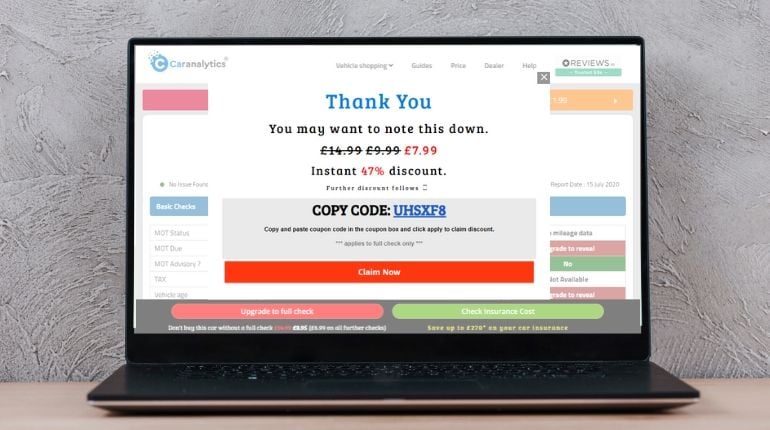 RAC Check
RAC gives a Basic Check for £9.99 that covers just the standard car history details. A Full Check, however, costs around £14.99 and reports any outstanding payment, details of stolen, written-off, scrapped, MoT failure, mileage irregularities, vehicle valuation, and average running costs. It also provides a guarantee of £30,000 to consider it among the best vehicle check services. There is also around £30 worth of savings that include £20 discount on a Thinkware dashcam and £5 on Autoglym products.
Total Car Check
They may not be that popular yet, however, Total Car Check claims to be the cheapest and best vehicle check service providers in the United Kingdom. The Free Basic Check discovers the basic record like mileage check and MoT history check. While, the Full Check costing £8.99 guarantees £30,000 on the validity of details such as write-off, outstanding finance, VIN check, valuation, scrapped, and stolen record.
Car Tax Check
Car Text Check offers a Free Check that details the MoT history, running costs, tax status, mileage, and safety recalls. Their Basic Check costs £1.99 and covers data on write-off, import/export status, scrapped, theft check, and the plate or colour changes. The Finance Check has a price tag of £9.99 for a full and extensive check.
Which is the Cheapest and the Best Vehicle Check in the UK
| | | | | | |
| --- | --- | --- | --- | --- | --- |
| | Car Analytics | HPI Check | RAC Check | Total Car Check | Car Tax Check |
| Free History Check | Free | N/A | N/A | Free | Free |
| Full History Check | £8.95 | £19.99 | £14.99 | £8.99 | £9.99 |
| Data Guarantee | £40,000 | £30,000 | £30,000 | £30,000 | £30,000 |
*Prices and data above, as of 10th June 2020, E&OE
Checking the above table, it is evident that Car Analytics is the cheapest and the best vehicle check service among all. No one doubts their reliability either as they have made a fine name in the Car Data History Check world. Almost all the service providers have about equal validity for the information they provide except CarAnalytics that goes beyond your expectations here as well, allowing you to feel securer with them while ordering the best car check in the UK.
Make sure that you are following Car Analytics on social media, we have Facebook, Linked In, Youtube, Instagram, Twitter and Pinterest we will post all our latest deals and offers.
Summary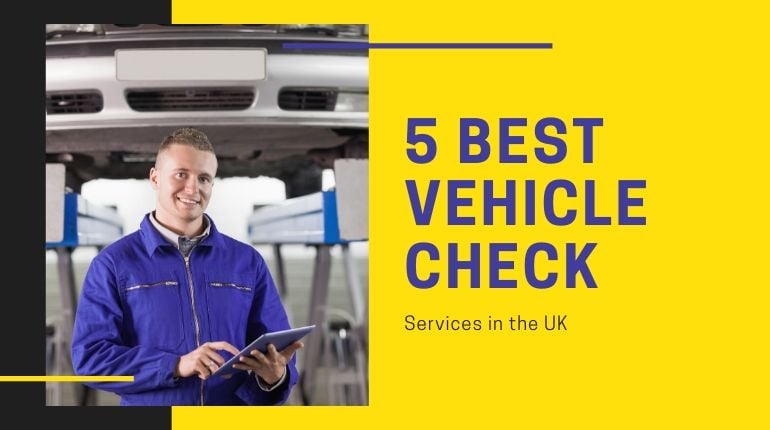 Article Name
Best Vehicle Check Services Among All Car Check Providers in UK
Description
Check out the complete information about the 5 best vehicle check services in the UK. It compares all & tells you about the cheapest, and the BEST.
Author
Publisher Name
Publisher Logo